This is what Trump's caravan 'invasion' really looks like

Those walking to the US to seek asylum have been demonized by Trump, who sent more than 5,000 soldiers to await them at the border. Bryan Mealer traveled with the most vulnerable among them.
Pictured above: Juan Antonio with his six-year-old daughter Lesly, who has cerebral palsy.

By the time I reach the migrant caravan in late October, they had been traveling for two weeks since leaving Honduras, having covered over 600 miles. Leaving from San Pedro Sula, one of the deadliest cities on Earth, they had set out over mountains, through forest and rivers, and along the way became both an international menace and a symbol of hope. Most days, they tell me, afternoon rains had soaked their belongings. Ants had bitten them where they slept. Crossing into Mexico, riot police had attacked them with clubs and teargas.
But for the most part, they say, people had displayed extraordinary kindness. Farmers had greeted them on the roads with sliced oranges and bags of water and strangers had given them rides. Every day brought these tiny, unexpected miracles: a plate of beans when their children were crying, a pickup when their legs could go no further. And for that reason, they believe that God is traveling with them on this journey to America.
I discover them in San Pedro Tapanatepec in the southern state of Oaxaca, traveling along the Pan-American highway, on what turned out to be the toughest day of the journey. The towns had been small, and few vehicles had passed along the country roads. Most of all, it had been hot, with temperatures reaching 95F (35C). Families with children had walked over nine hours and, once arrived, had collapsed into every nook and crevice of the town.
A caravan of 4,000 people doesn't simply visit a town, it swallows it whole, figuratively if not physically, and takes it hostage with its energy and chaos. Migrants move through the streets stalling traffic. Their bedrolls occupy every open porch and sliver of shade. Near the market, lines of them spill out from the internet cafe and the Western Union. A crowd overwhelms the merchant selling cellular plans, and for about two hours they bring down the network. Along the streets, residents peer out though closed shades and many businesses have closed. …
---
The Founding Fathers relied on deceit in championing American independence—and that has lessons for the present.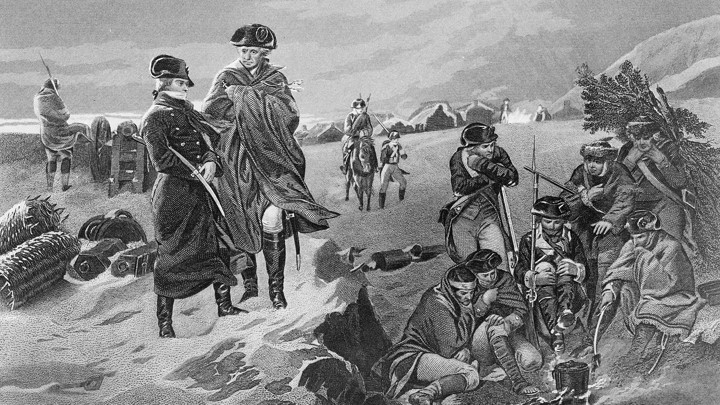 The French military leader Marquis de Lafayette and General George Washington at the Valley Forge encampment of the Continental Army during the winter of 1777–78.
As we celebrate Thanksgiving weekend, a holiday first declared by George Washington's presidential proclamation in 1789, it is worth remembering that deception played a pivotal role in America's birth. Our shining city on the hill owes much to the dark arts. George Washington, Benjamin Franklin, and other Founding Fathers are remembered today as virtuous creators of a bold new democracy. But they were also cunning manipulators of their information environment—a side of the founding story that has often been neglected by history.
George Washington's inability to tell a lie is a lie. That old cherry-tree fable—in which young George admits to his father that he did, indeed, chop down the tree with his hatchet—was invented by a Washington biographer named Mason Locke Weems in 1806 to boost his book sales. In truth, Washington was an avid spymaster with a talent for deception that would remain unequaled by American presidents for the next 150 years. During the Revolutionary War, Washington was referred to by his own secret code number (711), made ready use of ciphers and invisible ink, developed an extensive network of spies that reported on British troop movements and identified American traitors, and used all sorts of schemes to protect his forces, confuse his adversaries, and gain advantage. His military strategy was to outsmart and outlast the enemy, not outfight him. He used intelligence to avoid more battles than he fought, and to trick the British into standing down when standing up could have meant the end of the Continental Army.
Washington began using deception soon after he took command of the Continental Army in 1775. After a summer of skirmishes around Boston, rebel gunpowder was nearly gone; Washington's soldiers had enough only for nine bullets per man. To hide this potentially fatal weakness from the British while he scrambled to get supplies, Washington ordered that fake gunpowder casks be filled with sand and shipped to depots where they would be spotted by British spies. He also ordered a secret paramilitary mission to seize gunpowder stores in Bermuda that failed only because another secret rebel mission had gotten there first but nobody bothered to tell Washington. Throughout the war, Washington wrote reports inflating his troop strength that were designed to fall into the hands of traitors within his own ranks or agents hiding among the British. During the brutal winter of 1777–78 at Valley Forge, with his troops starving, freezing, and dwindling in number, Washington penned fake documents that referred to phantom infantry and cavalry regiments to convince British General Sir William Howe that the rebels were too strong to attack. It worked. Had Howe known the truth and pressed his advantage, the Continental Army might not have survived the winter.
Washington's deceptions even involved French bread. …
---
After years struggling with opioids in New Mexico, Frank Blazquez decided to use his camera to amplify his friends' pleas for escape.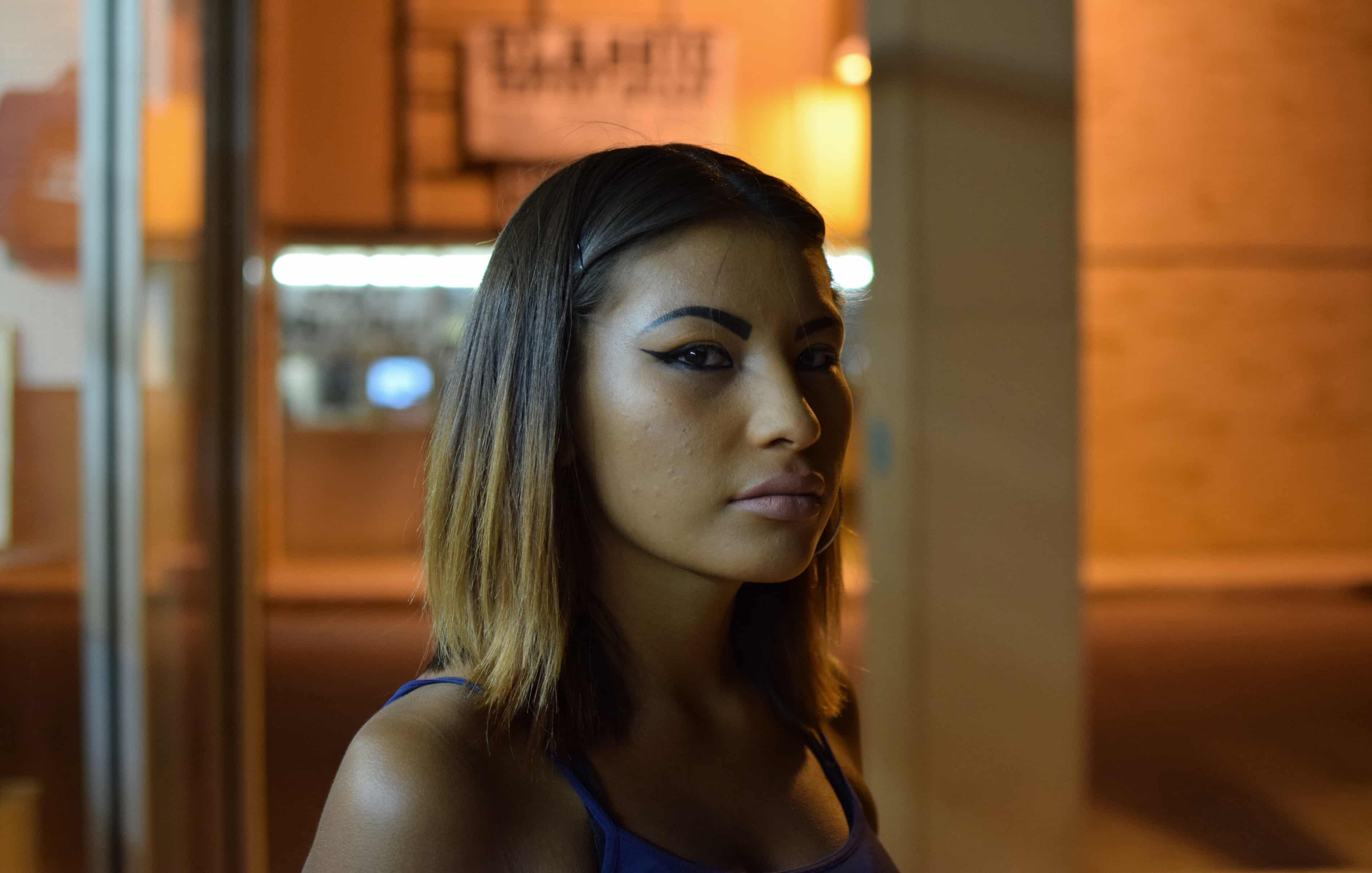 Miranda identifies as native New Mexican. She lives in Albuquerque's 'war zone'.
I moved to New Mexico from Illinois in 2010. My parents had found a new place and the opportunity to escape my reckless life was too good to pass up. Sleepless nights in Chicago nightclubs, permanent cocaine nostrils, and driving home inebriated five nights a week took its toll on me. New Mexico resembled the highway out of hell I was desperately wishing for. Friends told me it was a gorgeous state. I fell in love with the thought of a sun-drenched paradise.
I was a certified optician in Illinois and transported my skills to an Albuquerque optometry office that provided me with a stable income. Initially, I made new relationships with sober people, but the negative forces of my drug past soon held me hostage. By the fall of 2010 I met Brian. We immediately became friends. Brian maintained different connections with people from Albuquerque's "War Zone" who sold him 80mg Oxycontin prescriptions.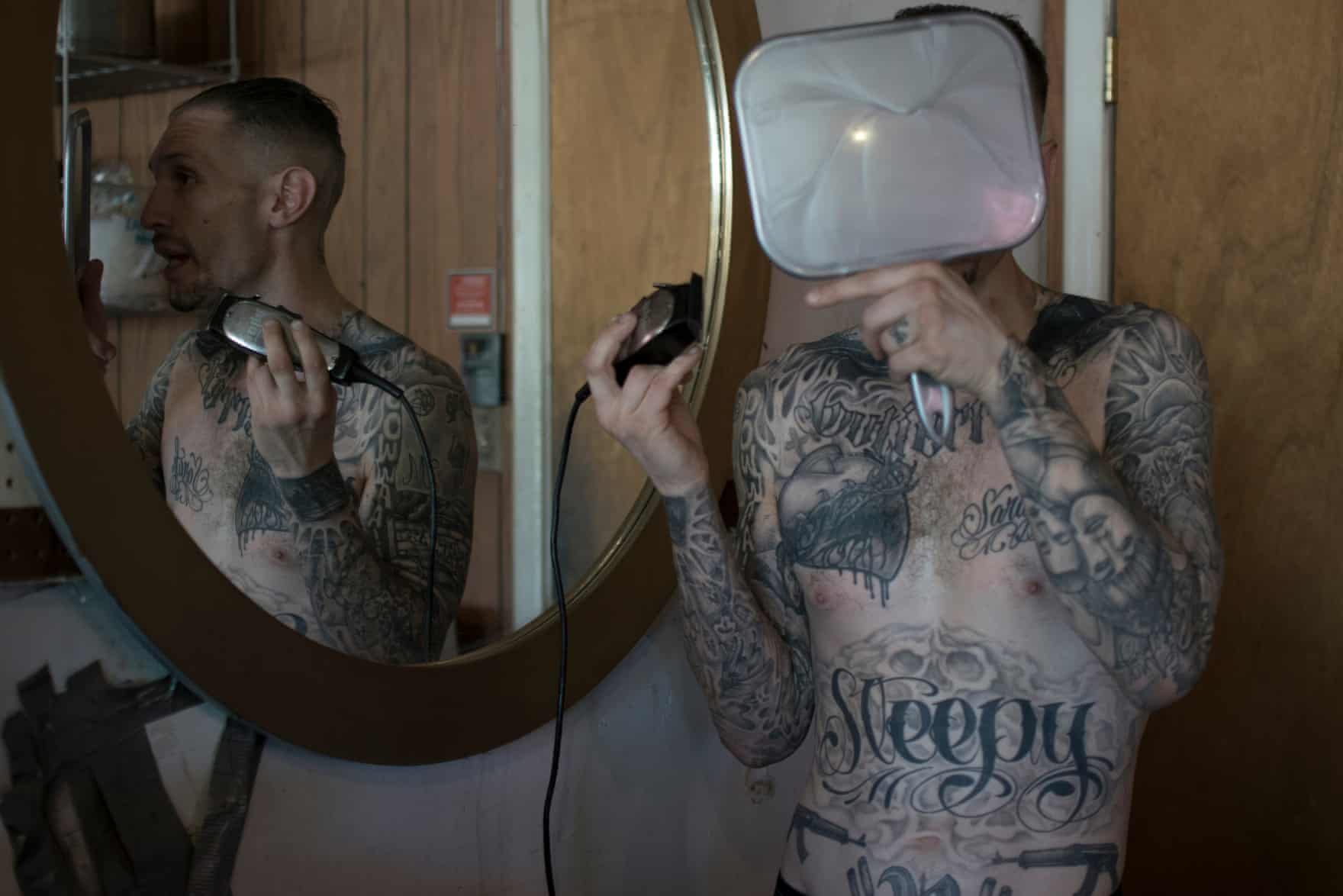 Sleepy, a barber and aspiring rapper, cuts his hair. He lives in Albuquerque's South Valley.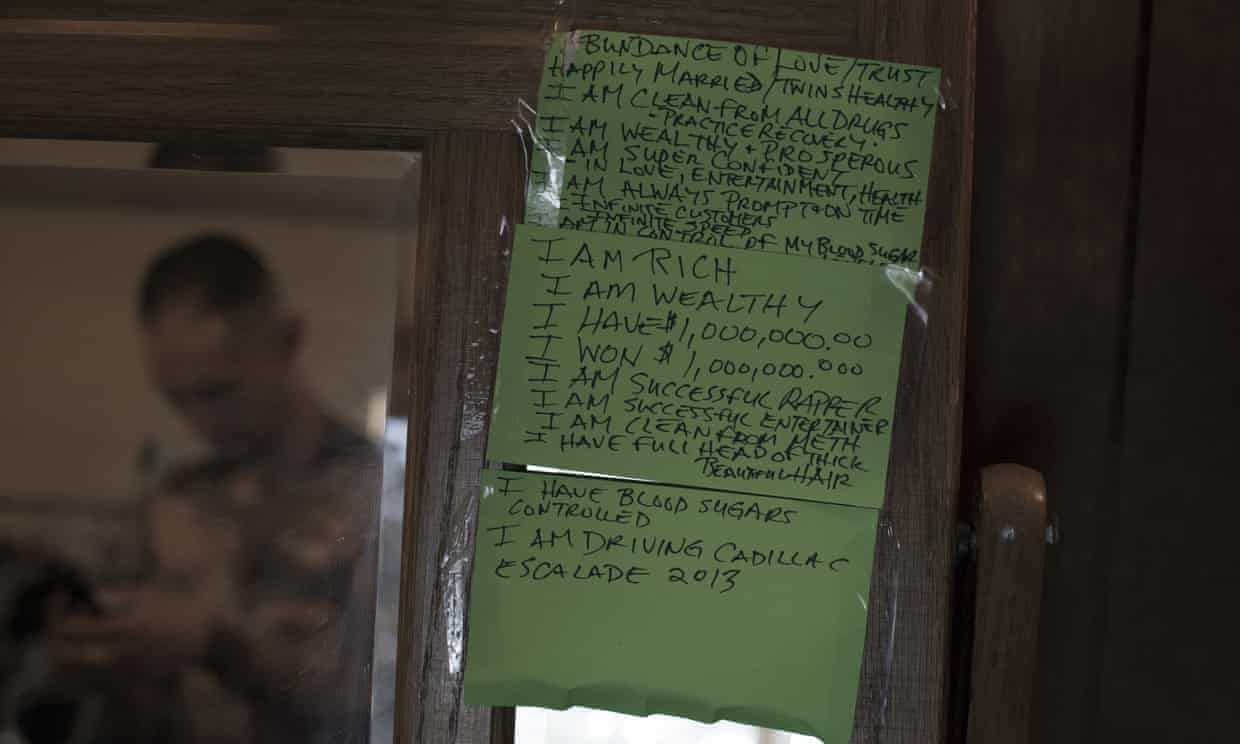 Sleepy's vision board contains his life goals. He believes that if he writes them down, he can achieve them.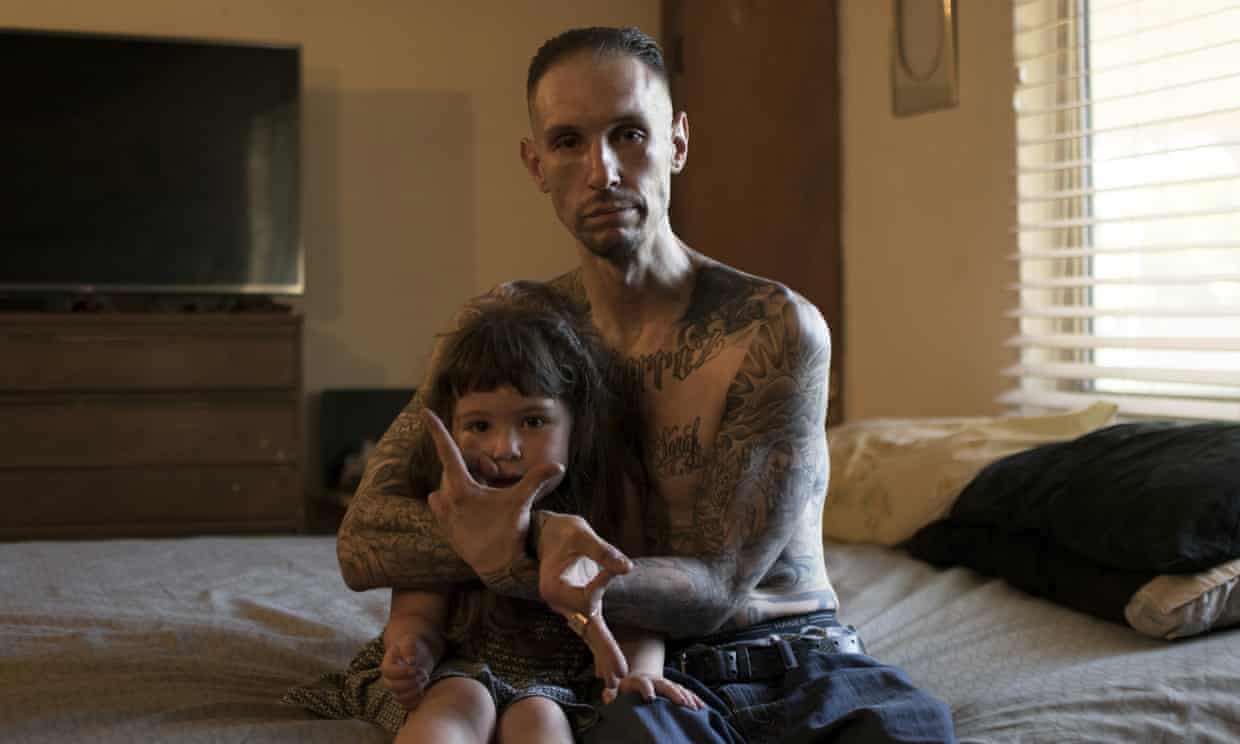 Sleepy flashes hand signs for the New Mexican prison gang 'Los Padillas' while his daughter sits on his lap.
I was soon a beneficiary of these associations. I learned many new skills: how to spit off Oxy coatings, and how to smoke them on foil. I met faces of the War Zone unlike any I have encountered before. Some had New Mexico head, face and neck tattoos from prison –signifying state pride and family roots. Most were like me: Chicano or Mexican-American. Most were desperately trying to get clean. …
---
Hey, remember the time Freemasons secretly took over Italy? Or that homeless woman who shot the CIA's disgraced financier? Or when Richard Nixon tried to end the Vietnam War by pretending to be crazy? Good stuff, right? Well don't worry, a bunch of sneaky idiots run this planet, so we will never run out of crazy, baffling, incredibly stupid real history to share with you.
6. The KGB Ordered A Bombing To Spark A War Between Jewish Radicals And The Black Panthers
---
From the late '60s to the early '80s, the Soviet Union ran a secret campaign to paint America as a hotbed of racism. (We know, what a far-fetched scheme, right?) For example, before the 1984 Los Angeles Olympics, the KGB sent fake letters from the KKK to African countries, declaring the Olympics were "for the whites only," and warning "we are preparing for the Olympic games by shooting at black moving targets … we'll give you a reception you'll never forget." The forged letters made front-page headlines around the world, and not just so people could laugh about how shitty an all-white Olympics would be.
The height of the campaign came in the early '70s, when the KGB wanted to spark a war between the Jewish Defense League (JDL), and Black Power groups. As part of Operation PANDORA, the KGB produced fake JDL pamphlets calling for a war against "black mongrels" who were supposedly attacking and looting Jewish businesses. They sent the pamphlets to dozens of Black Power groups, then followed them up with fake letters from African-Americans describing JDL attacks and begging for revenge.
They also tried to drag Martin Luther King Jr. into it — he can't seem to stay offof these lists.
The letters may have raised tensions, but they didn't produce the all-out street war the KGB was hoping for, probably because '70s America was not in fact run by those costumed gangs from The Warriors. So the frustrated Soviets decided that if no one was buying their fake racist attacks, they would have to carry out a real racist attack. After all, if you want racism done right, you have to do it yourself.
In 1971, high-ranking KGB officer Anatoli Kireyev ordered agents to plant a bomb in "the Negro section of New York." After the bomb went off, the agents were supposed to make anonymous phone calls claiming JDL responsibility. Fortunately the plan didn't happen, although the reasons for this are unclear (accessible KGB archive material only contains the orders from Kireyev, not any responses). Given that this was the summer of 1971, maybe nervous KGB agents had just seen Shaft and didn't want to risk it. …
---
JARGON-NOT

Who's got a business-to-English dictionary?
In a jargon-filled pressed release, General Motors today (Nov. 26) announced it is laying off 15% of its salaried workers and unallocating—err, closing—five plants in the US in Canada.
As CNN puts it, the automaker "is reinvesting money away from cars that once dominated America's roadways and putting it into technology it believes will power its future."
Or, as GM put it, it's going to "strengthen its core business, capitalize on the future of personal mobility and drive significant cost efficiencies."
The rest of the press release was similarly euphemistic. For clarity's sake, we've made some edits to it.

General Motors is firing 15% of its salaried workers Accelerates Transformation
DETROIT – General Motors (NYSE: GM) will close five North American plants and lay off 15% of its salaried employees. accelerate its transformation for the future, building on the comprehensive strategy it laid out in 2015 to strengthen its core business, capitalize on the future of personal mobility and drive significant cost efficiencies. The company hopes this announcement will be drowned out by Cyber Monday sales and completely forgotten by Christmas.
Today, GM is continuing to take proactive steps to improve overall business performance including the reorganization of its global product development staffs, the realignment of its manufacturing capacity and a reduction of salaried workforce. These actions are expected to increase annual adjusted automotive free add $6 billion to annual cash flow by the end of 2020 on a run-rate basis.
"The actions we are taking today continue our transformation to be highly agile, resilient and profitable will lower our costs, while giving us the flexibility to invest in the future," said GM Chairman and CEO Mary Barra. "We recognize the need to change course after people stopped buying so many of our cars stay in front of changing market conditions and customer preferences to position our company for long-term success." …
---
CAVEAT EMPTOR

Amazon's soon-to-be home.
Luxury high-rise apartments were already sprouting in Long Island City, a historically industrial neighborhood in Queens across the East River from Manhattan, before Amazon selected it as a site of its new headquarters.
Since the announcement, the neighborhood has experienced a surge in real-estate interest—but some purchases were made even earlier, the Wall Street Journal reported:

Joining the rush were at least three Amazon employees who recently bought homes in Long Island City, according to real-estate brokers. Two of them signed contracts at the Galerie, a new 11-story condo building with a pool and interior courtyard, said Brendan Aguayo, a senior managing director at Halstead Property Development Marking, which is selling units there.
The two employees decided to the buy units just before the first press reports surfaced that Amazon was likely to choose Long Island City for its new headquarters, Mr. Aguayo said. The buyers now live in New Jersey and Queens, he added.
An Amazon spokesman said only a small number of employees were involved in its headquarters project, and the company was not aware of anyone with advance knowledge of the decision who made real estate purchases based on that information. …
---
Video Goodnesses
and not-so-goodnesses
Russia's meddling in the United States' elections is not a hoax. It's the culmination of Moscow's decades-long campaign to tear the West apart. "Operation InfeKtion" reveals the ways in which one of the Soviets' central tactics — the promulgation of lies about America — continues today, from Pizzagate to George Soros conspiracies. Meet the KGB spies who conceived this virus and the American truth squads who tried — and are still trying — to fight it. Countries from Pakistan to Brazil are now debating reality, and in Vladimir Putin's greatest triumph, Americans are using Russia's playbook against one another without the faintest clue.
---
Friend who just got into a relationship now apparently expert on dating.
THANKS to CBC and The Beaverton for making this program available on YouTube.
---
洗濯前のひととき。A time before the washing.
---
FINALLY . . .
#SORRY

National stereotypes?
The stereotype might actually be true. A newly published study suggests Canadians are more polite than Americans—but only on Twitter.
Researchers at McMaster University analyzed 40 million tweets from English speakers both north and south of the 49th parallel. They discovered that words used disproportionately by Canadians or Americans on the social media platform match commonly held national stereotypes. Words over-represented in Canadian tweets tended to be more positive, while those over-represented in American tweets include negative language and profanity.
Though prior studies reveal no difference between American and Canadian personalities, the perception of that difference continues to exist. The authors argue it could be that national stereotypes are grounded instead in language.
"So, the stereotypes are true, but you have to be very careful about what they are true of," the work's lead author, Bryor Snefjella, tells Quartz. "They do not seem to be true of differences in personality traits between nations. They seem to be true of the language choices that Canadians and Americans make online." …
---
Ed. More tomorrow? Probably. Possibly. Maybe. Not?