Pictured above: Friedrich Trump emigrated to the US from Germany in 1885.

A historian has discovered a royal decree issued to Donald Trump's grandfather ordering him to leave Germany and never come back.
Friedrich Trump, a German, was issued with the document in February 1905, and ordered to leave the kingdom of Bavaria within eight weeks as punishment for having failed to do mandatory military service and failing to give authorities notice of his departure to the US when he first emigrated in 1885.
Roland Paul, a historian from Rhineland-Palatinate who found the document in local archives, told the tabloid Bild: "Friedrich Trump emigrated from Germany to the USA in 1885. However, he failed to de-register from his homeland and had not carried out his military service, which is why the authorities rejected his attempt at repatriation."
The decree orders the "American citizen and pensioner Friedrich Trump" to leave the area "at the very latest on 1 May … or else expect to be deported". Bild called the archive find an "unspectacular piece of paper", that had nevertheless "changed world history".
Trump was born in Kallstadt, now in the state of Rhineland-Palatinate, in 1869. He emigrated to the US aged 16 initially to escape poverty, attracted by the gold rush. …
---
On the anniversary of Harvey Milk's assassination, his friend and protege Cleve Jones recalls a day that devastated San Francisco – but kickstarted a gay rights revolution.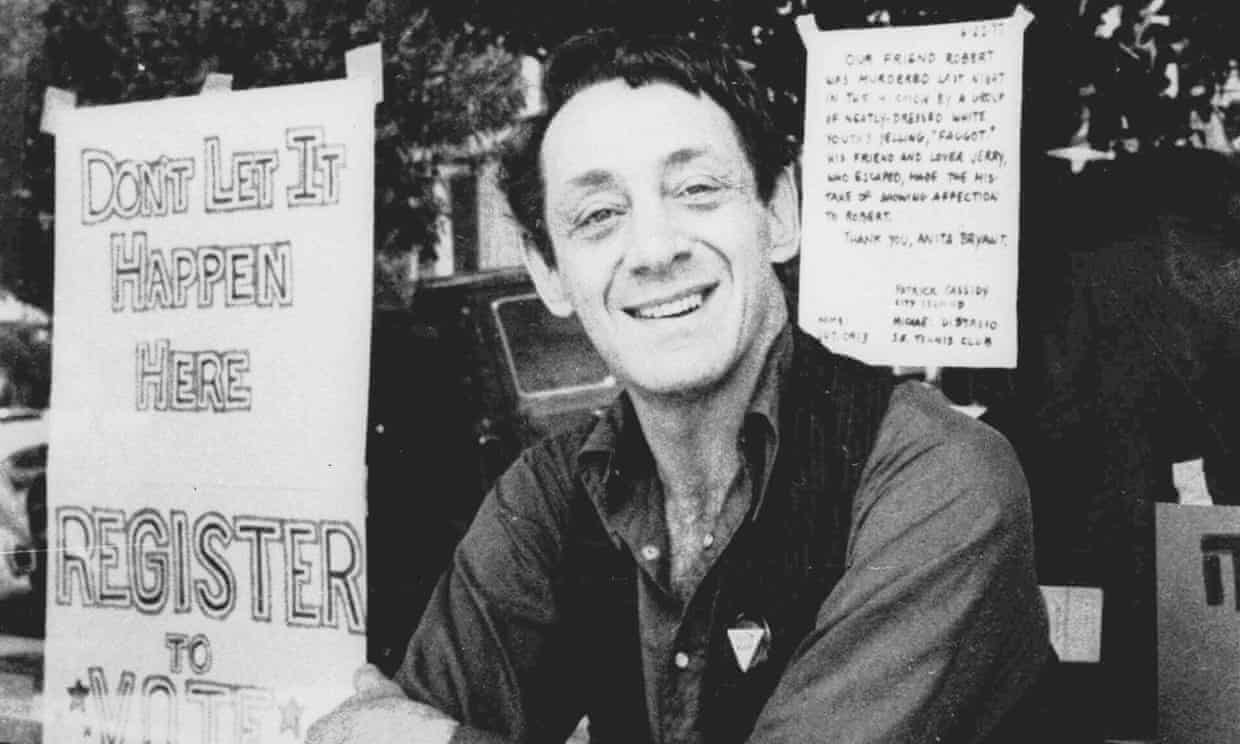 'Harvey was one of the first people to tell me that I had value as a human being and that I didn't need to change.'
More than 500 LGBTQ politicians hold public office in the US. They are city council members, mayors, members of Congress, state legislators, even governors. Hundreds more have been elected in countries around the world, including four heads of state. But 40 years ago, only a handful of gay men and lesbians had been elected to office. One of them was my friend Harvey Milk.
Harvey was charismatic, funny and something of a father figure to me. He was one of the first people to tell me that I had value as a human being and that I didn't need to change.
I worked for Harvey as a student intern in San Francisco city hall, earning credit in the political science program at San Francisco State University. I got to work early on 27 November 1978, but Harvey needed to see a file that I had left in my apartment on Castro Street and sent me home to retrieve it. As I left my apartment, I heard someone shout that Mayor George Moscone had been shot. I flagged down a taxi and told the driver to get me back to city hall.
The driver dropped me off on Van Ness Avenue at the western side of city hall. I ran in, seeing the police swarming around the mayor's office on the other side of the building. The cops frightened me and I ran up the stairs. The Board of Supervisors office was on the second floor and each supervisor had a small office opening to a private hallway that ran parallel to the public hallway. There was a passageway that connected the ornate supervisor's chambers to the reception area and the hall to the individual offices.
Harvey had given me a key to the passageway and as I let myself in I saw even more police officers running up the stairs. I felt panic in my chest and turned left towards the offices, looking for Harvey when Dianne Feinstein and an assistant rushed past me. Feinstein's sleeve and hand were streaked with dark red.
I looked down the hallway and saw Harvey's feet sticking out from Dan White's office. I recognized his secondhand wingtip shoes immediately.
Then my memory shifts to slow motion. …
---
Two killings in Paris, one year apart, have inflamed the bitter French debate over antisemitism, race and religion.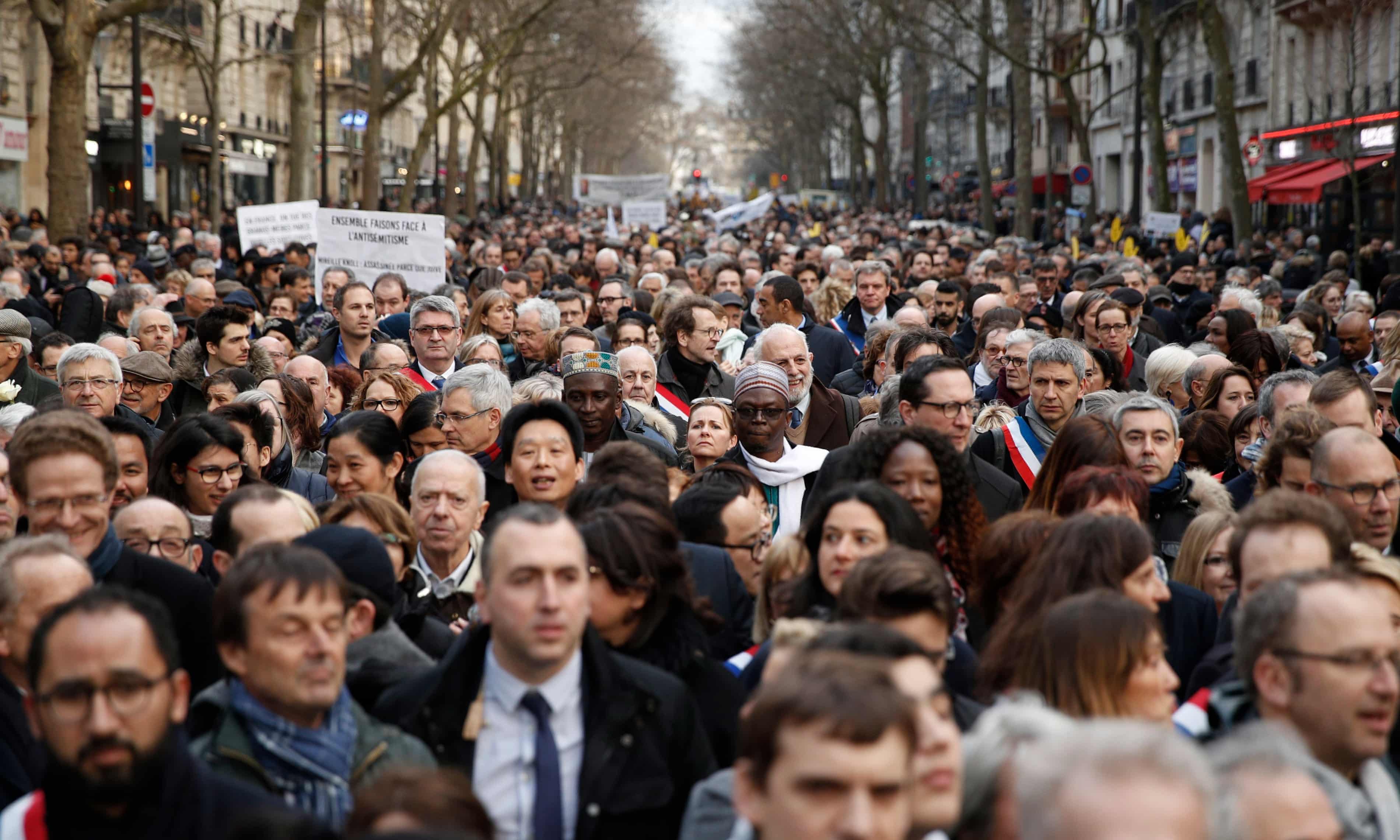 A march against antisemitism in Paris earlier this year.
The body landed in the courtyard, not far from the building's bins. Shortly before 5am on 4 April 2017, a 65-year-old woman was hurled from the third-floor balcony of a social housing project in the 11th arrondissement of Paris, a rapidly gentrifying area on the eastern side of the French capital. An hour earlier, that same woman – a retired doctor and kindergarten teacher – had been asleep in the small apartment where she had lived for the past 30 years. When she woke up, she saw the face of her 27-year-old neighbour in the darkness. The man, who still lived with his family on the building's second floor, had first stormed into another apartment, whose tenants had locked themselves in a bedroom and called the police. By the time he climbed up the fire escape into his victim's apartment, three officers were present in the building.
The autopsy would later reveal that the woman's skull had been crushed, most likely with the telephone on her bedside table. Before and after his victim lost consciousness, the assailant beat her until the nightgown she was wearing – white, with a blue floral pattern – was soaked with her blood. He then dragged her body to the balcony of the apartment, and threw her over the railing – exactly the same way, he told prosecutors, as John Travolta does in The Punisher, the film he had been watching before the attack. "I killed the sheitan!" he yelled from the balcony, according to testimonies given by neighbours. "Sheitan" is an Arabic word for "devil". Neighbours heard him repeatedly chant "Allahu Akbar".
The victim was Lucie Attal, an Orthodox Jewish woman who sometimes used the name Lucie Attal-Halimi. The perpetrator, who confessed to the crime, was Kobili Traoré, a Franco-Malian Muslim. He later told authorities he knew that his victim was Jewish. According to her family, Attal had long felt afraid of Traoré. Her brother, William Attal, told me that Traoré had verbally abused her in the building's elevator, and she had said she would only feel safe if he were in prison. In fact, Kobili Traoré may never go to prison for the killing: he has been in psychiatric detention since the night of the crime, and a French judge could rule that he is mentally unfit to stand trial.
In the immediate aftermath of Attal's death, there was virtually no public discussion of her killing. With the upcoming presidential election dominating headlines, the defenestration of a Jewish woman in the 11th arrondissement of Paris was treated by the mainstream French press as a fait divers, the term used to describe a minor news story, which led to considerable outcry in the Jewish community. But after the victory of Emmanuel Macron, the case returned to the forefront, becoming a new frontline in France's culture wars, among the most explosive in Europe.
The French Republic is founded on a strict universalism, which seeks to transcend – or, depending on your viewpoint, efface – particularity in the name of equality among citizens. In a nation that tends to discourage identity politics as "communautaire" and therefore hostile to national cohesion, the state not only frowns on hyphenated identities, but does not even officially recognise race either as a formal category or a lived experience. Since 1978, it has been illegal in France to collect census data on ethnic or religious difference, on the grounds that these categories could be manipulated for racist political ends. …
DEGREE OF DIFFICULTY: Prepare to spend a while; it's The Long Read.
---
When a business starts to take a nosedive and can't see any profitable light at the end of the fiscal tunnel, the people in charge can take one of a few routes. One option is to calmly liquidate the assets and move on to another venture. Another is to flip the conference table, wave your arms around, strip naked, and sprint down a crowded freeway screeching for money. The latter is pretty much what happened when …
5. Kodak Pivoted Into A Shady Cryptocurrency Company
---
Kodak famously failed to anticipate the rise of digital cameras, even though they were invented at Kodak. The ensuing desperate scramble to catch up saw them become the leading U.S. retailer of digital cameras, but only by losing $60 on every camera they sold. Then smartphones emerged and cratered the digital camera market too, at which point it really started to seem like an exec at Kodak had angered some kind of leprechaun. The company emerged from bankruptcy in 2013, having sold most of its profitable assets and stolen leprechaun gold.
So what's Kodak's plan to turn things around? Cryptocurrency! Yes, Kodak's launched two crypto schemes this year, which is a worrying thing to hear from a 19-year-old katana enthusiast, much less a former corporate behemoth. The first is Kodak KashMiner, a Kodak-branded Bitcoin miner that you can pay $3,400 to rent for two years. In return you get half the Bitcoins it produces. Kodak claims you'll earn $375 a month over that time, even though a) the price of Bitcoin fluctuates wildly, b) Bitcoin mining gets more difficult over time and output drops every month, and c) Kodak has no business being involved in any of this. Also, experts say it's nothing but a rebranded version of a machine you can buy outright for less than $3,400. It's been called a borderline scam.
Here's a photo of Kodak's magic money making machine. pic.twitter.com/wjWeJqMUBF

— Chris Hoffman (@chrisbhoffman) January 9, 2018
The second scheme is KodakCoin, a baffling "photo-centric cryptocurrency" which supposedly allows photographers to control their image rights … except you're currently only allowed to participate if you have a net worth over $1 million. As few freelance photographers are often seen making it rain in the club, it's not clear exactly who this service benefits, besides the coke-addled mind that came up with it. Even the company doesn't seem sure how it's supposed to work, responding to the question "Why would photographers want this?" with a 40-page white paper that The Times called a "mishmash of marketing buzzwords and vague diagrams." Which, to be fair, are the two pillars of the entire cryptocurrency industry. …
---
Welcome to the age of micro-monetization.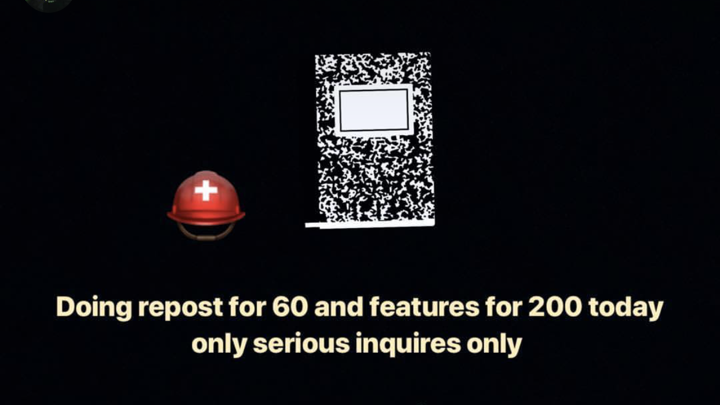 NO1 Noah understands the career-altering power of social media: The 22-year-old singer, songwriter, lyricist, and producer was initially discovered when people began sharing and re-sharing his work on Twitter and Instagram. But as he hurtles toward mainstream success, he still has to pay the bills. So he sells reposts on the music-discovery site SoundCloud, quote-tweets on Twitter, and swipe-ups on Instagram stories to other up-and-coming artists looking to promote their music.
For artists or producers trying to get their careers off the ground, money can be tight. Many work day jobs until they catch a big break, but more recently, they've found another way to supplement their income: Not by doing traditional sponsored-content posts, but by micro-monetizing their every online move.
Noah wouldn't tell me exactly what he brings in every month from social-media promotion, but deals like the ones he does can quickly add up. "For a repost, depending on how long they want it up, it can go from $70 to $200," he said. He charges $80 for an Instagram Stories swipe-up or a standard Twitter retweet, $100 to $150 for a quote tweet, and $150 for a tweet or a post to his Instagram feed. But everything is negotiable based on time: A post that's live for only 3 hours will be much cheaper than one left up for 48 hours. He currently has 33,000 followers on Instagram and more than 80,000 on Twitter.
Alex Loyalty, a hip-hop artist manager, brand consultant, and co-owner of Inzei Records, has worked with people who have used social-media promotion as a form of stopgap income. "A lot of these kids are not where you'd think they'd be with the placements they have," he says. "It's a way for artists to support themselves while they're coming up." …
---
EMOTIONAL METEOROLOGY

There's an app for your emotional weather, for better or worse.
If your phone could warn you of impending stormy internal weather, you could theoretically do the emotional equivalent of grabbing an umbrella on a cloudy day to ensure you don't get doused later.
That's the basic idea behind a number of new technologies, many still in development, that attempt to predict emotions based on certain biomarkers. Psychologists and technologists are together trying to build emotional databases that teach machines how to read human feelings by compiling a bunch of data about biological signals that indicate impending changes in order to digitally predict moods. Your wristband or phone would serve as a sensor, helping you ward off depression, supporters of the new technology say.
For some of these researchers, it's a personal mission, informed by their own struggles. "I suffered from depression early in my career and I do not want to go back there," Rosalind Picard, an electrical engineer and computer scientist at MIT, tells Nature. "I am certain that by tracking my behaviors with my phone I can make it far less likely I will return to that terrible place."
Picard works with Andrew Nock, a psychology professor at Harvard University, who was inspired by a friend's suicide, leading a team that tracks the moods of undergraduates at New England universities, using phones and wristbands. Nock and Picard say their research has shown that digital mood forecasting can predict episodes of sadness a day before students feel the symptoms themselves. …
---
Video Goodnesses
and not-so-goodnesses
Paradise, California, was a slice of heaven for those who lived there – until they lost everything in California's worst wildfire. The Camp fire wiped out the town, killed at least 85 people, and scorched 150,000 acres. But in the face of a dark new reality, shellshocked residents are displaying resilience.
---
Despite the Trump administration's most recent report on man-made climate change, the president continues to deny the science behind global warming; meanwhile, cable news outlets continue to bring on non-scientists to share their personal opinions on the situation.
THANKS to Comedy Central and The Daily Show with Trevor Noah for making this program available on YouTube.
---
Stephen and Jon aren't their usual selves upon returning from Thanksgiving break.
---
A workout with Ruth Bader Ginsburg. A visit to Citi Field to advise the New York Mets. These are Stephen's favorite moments from 2018 that took place away from the Ed Sullivan Theater.
---
Try as they might, Stephen and Jon find there's no escaping the unavoidable news cycle. In this edition of 'America: Epic Fall,' they look back at the best monologue moments from the autumn.
THANKS to CBC and The Late Show with Stephen Colbert for making this program available on YouTube.
---
CAUTION: Some language may not be appropriate for work or children.
Me commentary on some dodgy dogs vs a rabbit.
---
収納ケースが入っていた箱です。This is the big box which a plastic case was in.
---
FINALLY . . .
It's called "anting," and it is weird.

Scrub jays, among other birds, like to rub themselves with ants.

BIRDS CAN BE WEIRD, AND ONE one of the weirdest things they've been known to do is called "anting." Though the specifics can vary, at its most basic, anting involves birds rubbing ants on themselves. To date, over 200 species of birds have been observed engaging in this behavior, and no one is entirely sure why they do it.
Among the most common birds found to indulge in anting behavior are songbirds such as the blue jay, which were the focus of an extensive 2008 study on the phenomenon. But species as varied as crows, turkeys, and owls have all been observed indulging in the little understood ritual.
There are two types of anting, "passive" and "active." In passive anting, birds will lay down on anthills, feathers spread, allowing hundreds of ants to swarm their bodies, climbing between their feathers. During active anting, birds have been seen to pick up ants in their beaks and frantically rub them all over their bodies and under their wings. After the ant exposure is over, the birds often eat the ants. However, the behavior has also been observed in species that do not normally eat ants.
Ever since the behavior was first observed, around the 1930s, ornithologists and researchers have been attempting to find an explanation for it. A number of leading theories have to do with chemicals produced by the ants themselves. Many ant species observed to be used in anting behavior belong to the Formicinae subfamily, which produce formic acid when threatened. That formic acid could fuel the function of anting behavior in a number of ways.

…
---
Ed. More tomorrow? Probably. Possibly. Maybe. Not?