Barack Obama lambasts Trump over legal troubles

Ex-president defends probity of his administration and laments rise of 'politics based on hatred' under successor

Barack Obama has taken a swipe at his successor's legal troubles, one day after the special counsel, Robert Mueller, ended a plea deal with Paul Manafort, Donald Trump's former campaign chair.
"Not only did I not get indicted, nobody in my administration got indicted," the former president said at an event in Houston on Tuesday, "which by the way was the only administration in modern history that that can be said about. In fact, nobody came close to being indicted, partly because the people who joined us were there for the right reasons. We were there to serve."
Manafort breached a plea agreement he signed in September by "lying to the Federal Bureau of Investigation and the special counsel's office on a variety of subject matters", Mueller said in a court filing on Monday night. Mueller is investigating Russia's interference in the 2016 presidential election, which US intelligence agencies concluded was aimed at boosting Trump's bid for the White House, and any collusion between Russian operatives and Trump campaign team.
Mueller's inquiry has so far led to indictments against 32 individuals and three Russian entities on charges ranging from computer hacking to obstruction of justice.
Obama also lamented the rise of insular nationalism in US politics, describing it as a threat to international stability and domestic prosperity. …
---
The first lady's meme-ready holiday decorations detach viewers from nature, according to psychology experts.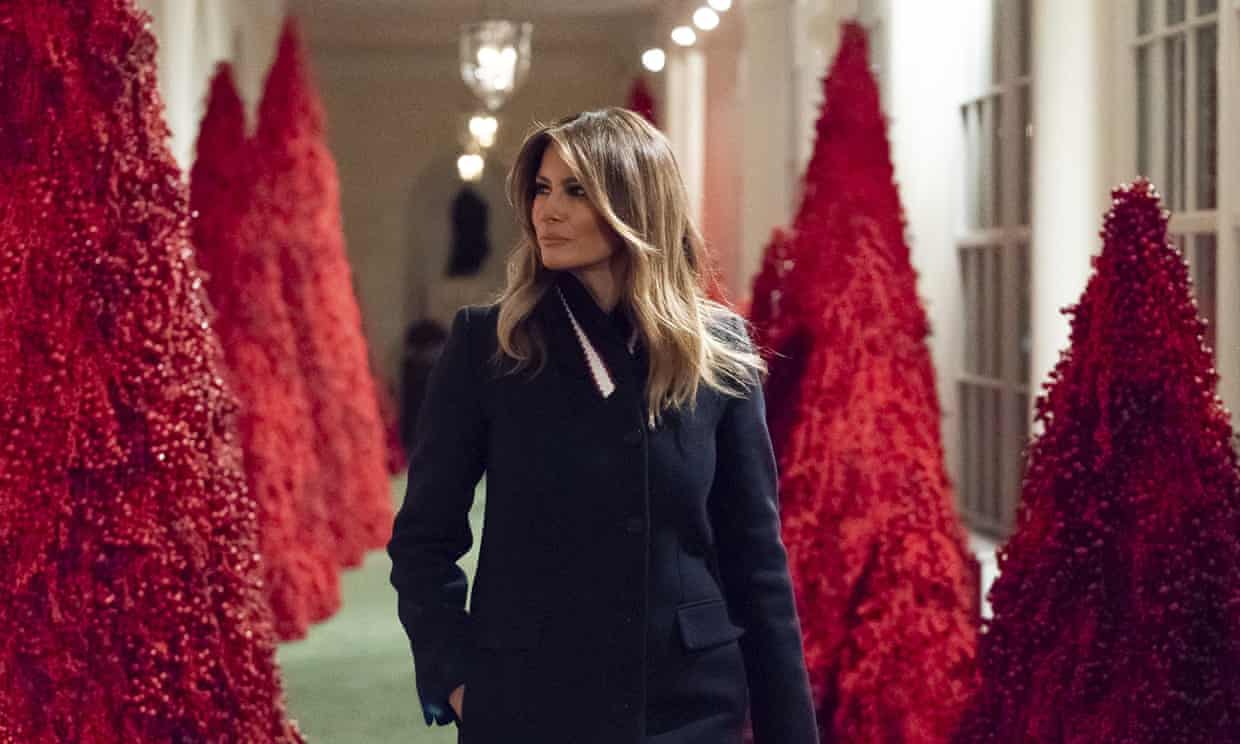 'I'm not going to recognize that is a tree,' said design psychology pioneer Dr Toby Israel of Melania Trump's holiday decorations, made from red berries.
Shortly fter Melania Trump unveiled the White House's Christmas decor on Monday, one key design element – a "forest" of cone-shaped, crimson trees – spurred tongue-in-cheek uproar on Twitter.
These 40 meme-ready trees were compared to car-wash brushes, juxtaposed with iconic blood waves in Stephen King's The Shining and photoshopped to don white bonnets – a clear reference to the long-suffering women in Margaret Atwood's Handmaid's Tale.
While much of the lampooning was surely prompted by disdain toward her husband's policies, several psychology experts told the Guardian that Trump's holiday aesthetic may just be inherently jarring for the human psyche.
Dr Toby Israel, a pioneer of design psychology, said the heavily red setup detaches viewers from nature, thus the psychological comfort associated with the natural world. …
---
The Jeff Bezos backlash has begun.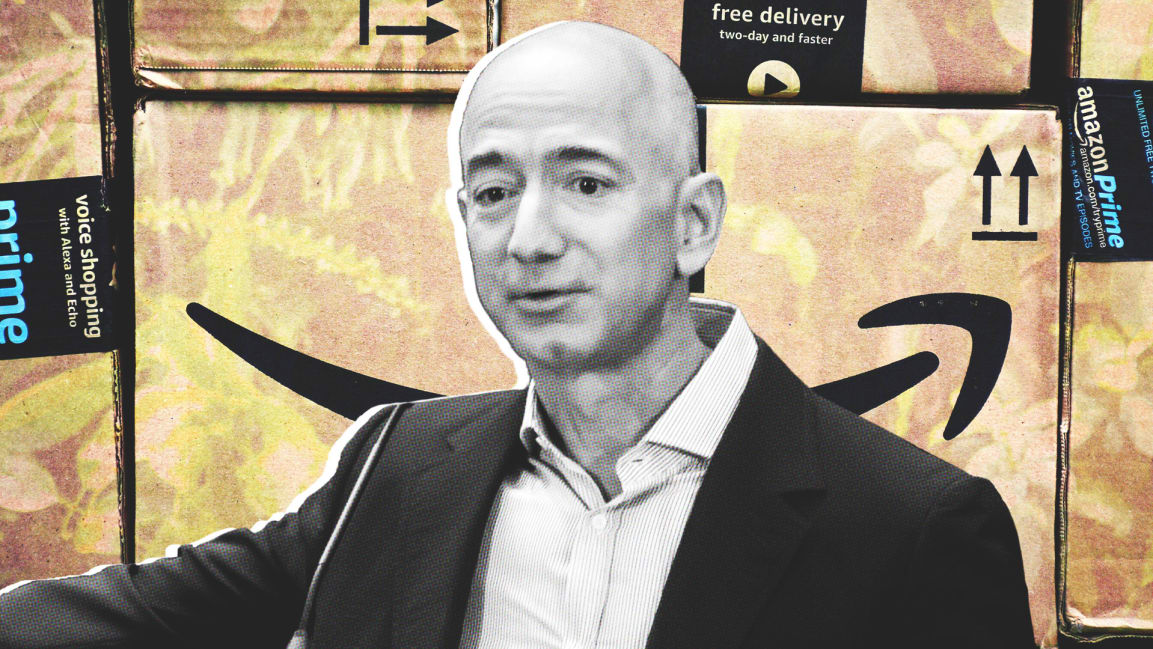 Yesterday was Cyber Monday and already Amazon has revealed many flowery statistics about all the ways it earned tens of millions of dollars in a matter of hours. Amazon does this every year–it's how it reaffirms to the world its dominance. But in the background something else is afoot, and it's been slowly gaining traction: a backlash.
On Vox's The Goods, writer Rebecca Jennings wrote yesterday about the slow and steady movement of people and organizations realizing that Amazon may actually be bad.
"Having covered Black Friday for the past few years, I'm used to the infinite roundups of Amazon's best Black Friday and Cyber Monday deals–which, to be sure, won't be going anywhere as long as publishers are able to monetize them," she wrote. "But what I hadn't seen as much before this year were media companies openly discouraging readers from shopping at Amazon." Two examples she brings up are The Ringer and Gizmodo–both of which wrote pieces this year dissuading its readers from using the e-commerce platform.
Similarly, individuals have joined the call too. Jennings points to numerous tweets–most of whom come from the loud but incestuous media twitter circle–of popular accounts imploring their followers to break ties with the company. (A search of Google Trends for the search query "cancel Amazon Prime" shows a spike last December, followed by a steady decline.) Other smaller creators have also tried to foster positive reinforcement in name of canceling Amazon Prime; online ceramicist and writer Marian Bull (who's also, full disclosure, a friend of mine), held a brief sale on her Instagram imploring followers to part ways with the Amazon beast.
"[H]ey I fucking hate Jeff Bezos so if you cancel your prime subscription and DM me a screenshot I'll send you a free cup," she wrote. And it seemed to work: in less than a day Bull updated the post to say she reached her free mug cap. …
---
As disabilities go, muteness seems like one that'd be pretty easy for people to wrap their heads around. You can't talk, big deal. Pop culture is full of mutes, and they're usually cool and mysterious (or, you know, Jason Vorhees). But try explaining to people that you can talk, but sometimes … don't. Even if remaining silent means your own safety is at risk, the gears between your brain and mouth simply don't turn. It's a condition called selective mutism, and it is very real, even though people really struggle with believing it is. We spoke with Andy, a selective mute from Brisbane, about this deeply weird and often infuriating condition.
5. Imagine Having Crippling Stage Fright Every Day
---
The first misconception that'll pop into your mind is that surely Andy can talk if he really wants to — you know, like, if there's an emergency or something. But actually, that's when his voice is most likely to abandon him.
"There's like a block there," he explained. "You brain just tells you not to do it." And yes, emergencies have occurred, and trying to work through selective mutism in the middle of a panic sounds like a goddamned nightmare. "When I was younger, I'd flail about. Like when my dog had seizures and my parents were inside, I'd wave my arms about and get them to follow me, but if it was someone else, like a family friend, I'd need to build up and say 'Dah … dah … dog!' and then they'd know."
It's kind of like a stutter in that regard, in that there's circuitry in the brain that's affected by circumstances and emotional state. Still, it'd be ignorant to dismiss it as being all in his head.
"Like at work, if I need to tell someone that, for example, someone burned themselves on tea, I'd go to someone and continuously whip my hand out in a motion to build up to speak. Then I'd go, 'Paul … Pauls … Paul's … Paul's burnt' with each wave. It can sound almost like a stutter, but if I'm not in close company, I'll do that to start speaking. It's like a kick-start to talk."
The neuroscience behind it has shown that it's partially auditory, as well overloading the emotional response part of your brain (the amygdala). Selective mutes generally listen, can't process how to deal with what they heard, and shut down the vocal reaction because the brain hits the panic switch. "The brakes suddenly go on everywhere, and then the gas pedal doesn't work." …
---
WHAT IN THE FRESH HELL

"Relax We Post"
A hotel chain in Switzerland is offering a new service: a "social media sitter" who will take photos of a guest's vacation and post them on Instagram on their behalf. This is the world we are now all living in.
Visitors to Ibis hotel locations in Geneva and Zurich this month had the option to buy a room package that includes a hired Instagram influencer to ostensibly let the vacationers take a break from social media, while still maintaining a jealousy-inducing presence online. The $90-and-up service is called "Relax We Post."
According to the terms of service (link in French), the posts have to be hashtagged #postedbysocialmediasitter, and the patrons give their Instagram passwords to the sitter for the duration of the weekend. A press release (link in French) indicates that the patrons can brief the sitter on their expectations and their interests. So far, there are only a handful of such photos publicly available on Instagram. The program is a trial run, and will end this weekend.
The company did not respond to a request for comment.
The whole thing—likely a publicity stunt to promote the budget chain, which is owned by the French AccorHotels—is rather perplexing, starting with the ad for the offer. A promotional video gives a terrifying vision of the insane (and entirely self-imposed) pressures social media exerts on travelers. …
POINT OF REFLECTION: It may not have been very useful to embed links to French-language pages.
POINT OF FURTHER REFLECTION: It may not be necessary to embed links at all. Does anybody even read these errant ramblings barely uninteresting at all things, selected from the articles I chose to read on my phone while eating breakfast?
Ed. If I still smoked cigarettes, now would be a good time to light one up after embedding that last rabbit hole link. Instead of smoking a cigarette, I posted the rabbit hole link.
---
TO BIG TO SALE

Two significantly smaller Holstein Friesians.
Ladies, if he never calls you back, stands six-foot-four, weighs over 3,000 pounds, and answers to Knickers, he's not your man—he's one of Australia's largest castrated bulls.
This enormous Holstein Friesian lives in rural Western Australia, and spends his days on the farm as a "coach"—a steer that leads other cattle. According to his owner Geoff Pearson, he's very good at it. In a field full of brown wagyu cattle, black-and-white Knickers stands out like a sore thumb, attracting hundreds of other cows, who follow him diligently around the pasture.
Holy Cow! You'll want to mooooooove over if you ever see this big guy. Meet "Knickers," a Holstein-Friesian Steer – which is a dairy breed of cattle.

Details: https://t.co/3Vb37400tj pic.twitter.com/HXIUooTirO

— KUSI News (@KUSINews) November 27, 2018
It's not his aptitude for his job that has earned Knickers a reprieve from the abattoir. It's his physical bulk. When Pearson tried to sell him off for meat, he was rejected by processors who said that their machines simply wouldn't be able to deal with an animal of that size. Instead, the BBC reports, he will spend the rest of his days on the Lake Preston feedlot, 136km (85 miles) south of Perth, in Myalup.
Although Knickers was always on the large side, his owners did not expect that he would continue to grow for as long as he has. "He was always a standout steer from the others, a bit bigger than the rest," Pearson said. While other cattle—"some of his mates"—met their demise, the cattle farmers held on to Knickers. "He was still a standout so we thought let's leave him there, he's not hurting anyone," Pearson said. …
---
Video Goodnesses
and not-so-goodnesses
The Office of the Inspector General issued a memorandum Tuesday afternoon confirming VICE News' findings about a lack of fingerprinting background checks for staff at the Tornillo facility housing migrant kids. OIG said they'd conducted a site visit and found conditions "posing substantial risks to children receiving care" there. OIG is in the midst of conducting inspections of 45 different facilities but the problems flagged at Tornillo with background checks were so significant they warranted this "early alert" memorandum.
THANKS to HBO and VICE News for making this program available on YouTube.
---
It turns out America's top used car salesman sold GM workers a lemon. General Motors cuts 15,000 jobs amid slumping sales after Trump repeatedly insists the corporation is making a comeback.
---
The shooting of Emantic "E.J." Bradford Jr. once again proves that a black man can't be "a good guy with a gun."
THANKS to Comedy Central and The Daily Show with Trevor Noah for making this program available on YouTube.
---
Jon Stewart takes over the Late Show desk for a flipped interview with Stephen Colbert about their old days at the Daily Show and Colbert Report.
THANKS to CBS and The Late Show with Stephen Colbert for making this program available on YouTube.
---
There's a LOT going on in this video, but let's not lose focus on the fact that "the woman who treats her car like a little baby boy" pitch is PURE GOLD. Oh, and watch an all new Adam Ruins Everything on @truTV tonight at 10/9C! #AdamRuins
---
何かを被ったらパトロールしたくなるのはまるの習性です。When Maru put something on his head, he wants to patrol. It's his habit.
---
FINALLY . . .
CELL PHONY

"Not coming out of my cage and I've been doing just fine."

Some might consider it the ultimate silent retreat.
A mock prison called "Prison Inside Me" has become a retreat for harried South Koreans looking for a clean break from the daily demands of their careers. Located in the Hongcheon county, in Gangwon province east of Seoul, paying visitors are issued a standard blue uniform and must follow the facility's strict rules. The "inmates" can't speak to each other, nor do they have access to their phones, or even a clock. Meals, slipped under a swinging door to their cell, are fairly spartan.
Prison Inside Me has hosted a few thousand visitors in the past few years, Reuters reports. Many of them are seeking temporary solace from the stresses of South Korea's competitive schooling and job market. These stresses have been amplified due to an economic downturn in the country.
One visitor, 28-year-old Park Hye-ri, bluntly described why they would withdraw from the world in such a dramatic fashion, telling Reuters, "This prison gives me a sense of freedom." …
Ed. The irony… I want to go.
---
Ed. More tomorrow? Possibly. Maybe. Probably Not? Tomorrow's a Groundhog Day.