Inside China's audacious global propaganda campaign

Beijing is buying up media outlets and training scores of foreign journalists to 'tell China's story well' – as part of a worldwide propaganda campaign of astonishing scope and ambition

As they sifted through resumes, the team recruiting for the new London hub of China's state-run broadcaster had an enviable problem: far, far too many candidates. Almost 6,000 people were applying for just 90 jobs "reporting the news from a Chinese perspective". Even the simple task of reading through the heap of applications would take almost two months.
For western journalists, demoralised by endless budget cuts, China Global Television Network presents an enticing prospect, offering competitive salaries to work in state-of-the-art purpose-built studios in Chiswick, west London. CGTN – as the international arm of China Central Television (CCTV) was rebranded in 2016 – is the most high-profile component of China's rapid media expansion across the world, whose goal, in the words of President Xi Jinping, is to "tell China's story well". In practice, telling China's story well looks a lot like serving the ideological aims of the state.
For decades, Beijing's approach to shaping its image has been defensive, reactive and largely aimed at a domestic audience. The most visible manifestation of these efforts was the literal disappearance of content inside China: foreign magazines with pages ripped out, or the BBC news flickering to black when it aired stories on sensitive issues such as Tibet, Taiwan or the Tiananmen killings of 1989. Beijing's crude tools were domestic censorship, official complaints to news organisations' headquarters and expelling correspondents from China.
But over the past decade or so, China has rolled out a more sophisticated and assertive strategy, which is increasingly aimed at international audiences. China is trying to reshape the global information environment with massive infusions of money – funding paid-for advertorials, sponsored journalistic coverage and heavily massaged positive messages from boosters. While within China the press is increasingly tightly controlled, abroad Beijing has sought to exploit the vulnerabilities of the free press to its advantage. …
PREPARE TO SPEND A WHILE: It's The Long Read.
---

President Trump walks from the stage to greet guests during a Hanukkah reception in the East Room of the White House on Thursday.
Photographer Joshua McKerrow spent Thursday at the Maryland governor's mansion, where he's traveled annually for years to cover the holiday decorations with Capital Gazette reporter Wendi Winters. But this year, Winters was absent — one of the five victims killed in a mass shooting in the paper's Annapolis newsroom in June. So McKerrow was already emotional when he saw President Trump's latest all-caps broadside against journalists.
"FAKE NEWS – THE ENEMY OF THE PEOPLE!" Trump tweeted Thursday night amid a flurry of outbursts about special counsel Robert S. Mueller III's investigation into Russian interference in the 2016 campaign.
McKerrow responded eloquently in a thread that is equal parts memorial to Winters and rebuttal of the president's attacks on journalists at a time when global violence against reporters is spiking.
"Wendi was no ones enemy," McKerrow wrote in a series retweeted more than 12,000 times as of early Friday.

18-year-old Sofia Biondi, likely the last person Wendi Winters interviewed, recounted her time with the journalist just before Winters was shot and killed.
Trump's use of the phrase "enemy of the people" to attack journalists has particularly worried historians, who point out that Adolf Hitler, Joseph Stalin and Mao Zedong all regularly used the term to attack domestic enemies — particularly truth-telling scholars and reporters. That hasn't stopped the president from regularly trotting out the slur on the campaign trail to thunderous applause from supporters, and mounting concern from journalists covering his rallies. …
---
SLEEPER SUPPLY CLOSET

Youcan run, but…
The US Drug Enforcement Administration (DEA) has hidden surveillance cameras in everything from streetlights to traffic barrels to road signs. Now, the agency will be using a vacuum cleaner for surveillance, according to recently released, publicly available federal contracting data.
A Denair, California-based company called the Special Services Group, LLC won a $42,595 DEA purchase order at the end of November for a "custom Shop Vac concealment with Canon M50B." Canon describes the M50B as a "high-sensitivity…PTZ [Pan-Tilt-Zoom] network camera" that "captures video with remarkable color and clarity, even in very low-light environments." The M50B retails for about $3,400; the acquisition is being funded by the DEA's Office of Investigative Technology and is presumably intended to assist agents in a specific operation, rather than for wider, passive monitoring.
The Special Services Group "is a leading supplier of technical solutions for law enforcement, military and government agencies in the United States of America," its website says. "Due to the critical missions of our customers, we have chosen not to place our product information on our website. Please use the contact section of our site to request more information."
Past contracts suggest the firm works with the DEA in various capacities; they include orders for "special services," "covert GPS," and something described as "annual covert track service." …
---

One of the internet's favorite things is coming up with insane explanations for unsolved murders. Hell, we've occasionally gotten in on that wacky action ourselves. But as the old saying goes, truth is even more batshit crazy than fiction. Nothing we've ever theorized has come close to topping how these cases really ended.
5. A Deflated Yoga Ball Solved A Double Murder
---
On May 22, 2015, a jogger in Hong Kong stumbled upon a for-realsies locked room mystery in the middle of the street. He found two dead women (aged 47 and 16) slumped inside a parked car, with the doors locked and no sign of struggle or a perp. Later, an autopsy revealed that the pair, a mother and daughter, had died of severe carbon monoxide poisoning. But the vehicle had no leaks or defects, and the air quality in China isn't that bad. So what the hell happened?
And then the cops found the murder weapon: a flat yoga ball in the trunk.
Not to be confused with the awkward sex position of the same name.
Turns out the man of the family, Khaw Kim Sun, had spent thousands of dollars bulk-ordering carbon monoxide, ostensibly for use in an experiment. Carbon monoxide that he was later seen pumping into two yoga balls, which he told police were to kill rats at home. Unbreakable code, Professor Moriarty. He then placed one of these balls in the trunk of his wife's car and tampered with it in such a way that it would slowly fill the vehicle with gas and render his wife terminally unconsciousness, apparently not counting on their daughter tagging along for a ride.
At the trial, Khaw tried to explain his way out of this one with that age-old defense of bitches be cray-cray. He claimed that his daughter had been feeling suicidal and decided to end it all (and her mom) with the gas-filled ball. Khaw hasn't yet explained how the teenager knew that the ball was filled with toxic gas, which is not normally a thing. But don't worry, he's got a lifetime of solitude to figure that one out. …
---
Some Americans searching for alternative paths to healing have turned to psychedelics. But how does one forge a career as a guide when the substances are illegal?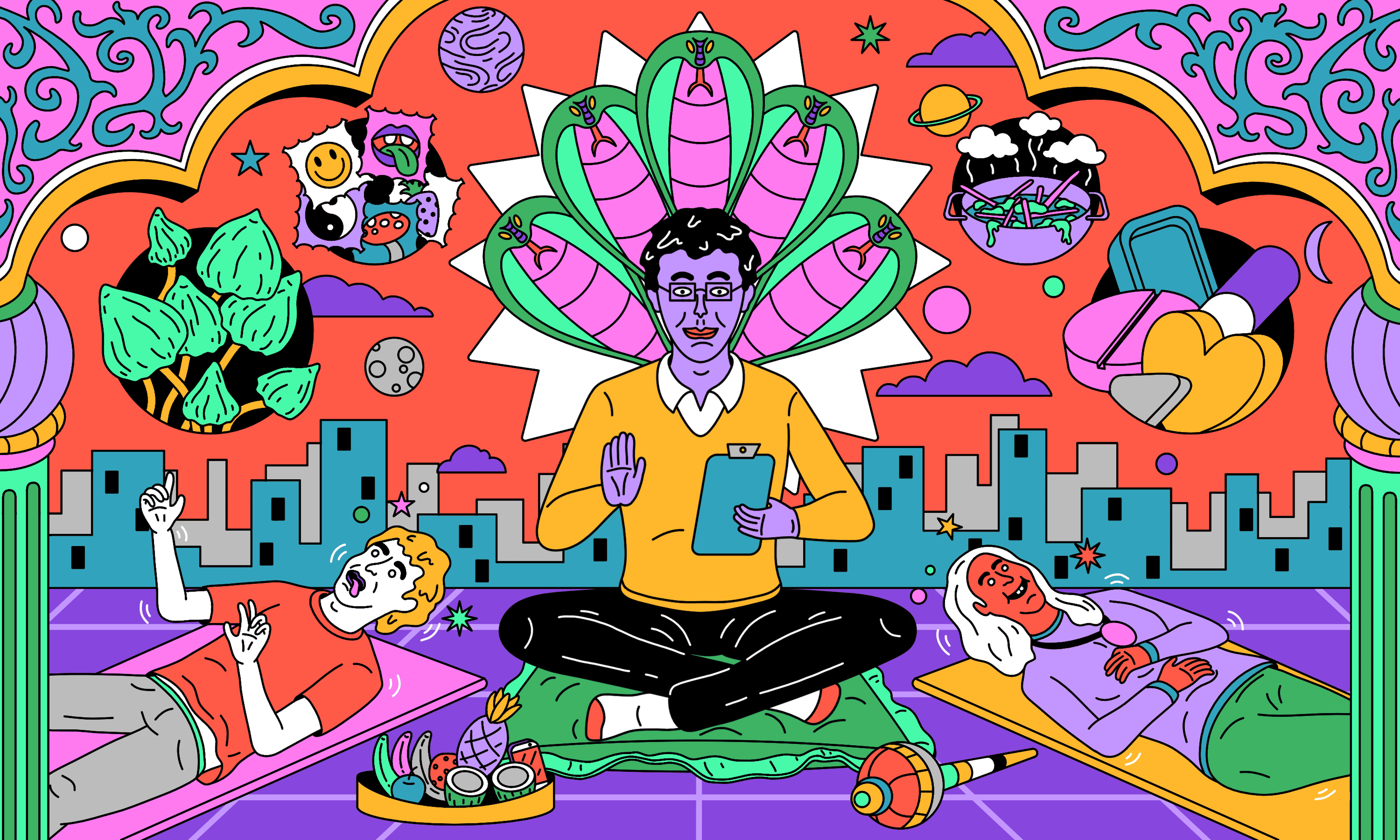 'I know it sounds woo-woo, but I somehow feel protected by the mushrooms.'
Steve has cops in his family, so he doesn't tell many people about his work as an underground psychedelic guide. The work takes up a significant amount of his time – around once a week, he'll meet a client in their home or in a rented home, dose them with MDMA or hallucinogenic psilocybin mushrooms, and sit with them while they trip for up to 10 hours – but he doesn't tell his siblings, parents or roommates about it, nor his fellow psychology PhD students.
They would probably never guess, either: Steve doesn't display any signs of involvement with a stigmatized counterculture that many Americans still associate with its flamboyant 1960s figureheads. He's a bespectacled, soft-spoken former business school student who plays in a brass band and works part-time as an over-the-phone mental health counselor. After one glass of wine, he says: "Whoa, I'm feeling a little drunk."
But if you probe, he might tell you about the time he took psilocybin and a "snake god" entered his body and left him convulsing on the floor for an hour. (The snake god was benevolent, he says, and the convulsing was cathartic, "a tremendous discharge of anxious energy".)
In early October, Steve attended a Manhattan conference called Horizons: Perspectives on Psychedelics, which bills itself as the world's "largest and longest-running annual gathering of the psychedelic community". I went with my 51-year-old cousin, Temple, a relatively mainstream psychotherapist. She had come to learn more about psychedelic-assisted psychotherapy, which underground guides like Steve facilitate illegally. She hopes to incorporate this type of therapy into her practice if and when substances such as psilocybin, MDMA, LSD and ayahuasca become legal. …
---

Jeff Bezos in "South Park.
"South Park" poked fun at Amazon on Wednesday, portraying Jeff Bezos as a sinister, giant-headed supervillain.
The episode also satirized reports of working conditions at Amazon's warehouses.
Amazon was the subject of a "South Park" roasting on Wednesday night, with CEO Jeff Bezos portrayed as a giant-brained, telepathic supervillain.
The episode, titled "Unfulfilled" in an apparent reference to Amazon's fulfillment centers (the name it gives its warehouses), satirized reports of Amazon's working conditions, as Butters' father works inside a warehouse.
At one point a montage showed him working to "Sixteen Tons," a song about working in a coal mine made famous by Tennessee Ernie Ford in the 1950s.
Bezos appears as a supervillain with an enormous head who communicates telepathically, resembling the Talosian alien race from "Star Trek." He intimidates the mayor, threatening repercussions after the town's Amazon workers go on strike.

THANKS to Comedy Central and South Park for making this program available on YouTube.
…
---
Video Goodnesses
and not-so-goodnesses
A decade after the 2008 financial crisis, Presidents George W. Bush and Barack Obama, Henry Paulson, Ben Bernanke, Timothy Geithner, and more speak out as they never have before.
Panic: The Untold Story of the 2008 Financial Crisis
See it Monday, December 10 at 10 PM EST on HBO.
THANKS to HBO and VICE News for making this program available on YouTube.
---
Trevor and Desi Lydic look at the arrest of a Chinese tech giant, the revelation that Trump has an undocumented housekeeper and Justin Timberlake's vocal rest. Plus, Jaboukie Young-White weighs the pros and cons of an increasingly cashless economy.
THANKS to Comedy Central and The Daily Show with Trevor Noah for making this program available on YouTube.
---
Donald Trump is basking in the glory of his presidency's crowning achievement: not ruining a funeral.
---
Republicans senators have strong words for the Trump administration's weak response to the murder of Jamal Khashoggi.
---
The Late Show's 'Who's Boat is This Boat?' has reached a seven-figure milestone in its mission to raise funds for hurricane relief.
THANKS to CBS and The Late Show with Stephen Colbert for making this program available on YouTube.
---
Seth takes a closer look at the how Donald Trump along with Republicans in Michigan and Wisconsin pose a threat to democracy.
THANKS to NBC and Late Night with Seth Meyers for making this program available on YouTube.
---
Mueller's been dropping sentencing memos like he's frickin' Beyoncé! When can Muellaniacs expect his next indictment to drop?
---
We are truly living in the golden age of white collar crime, but with an extra emphasis on white.
THANKS to TBS and Full Frontal with Samantha Bee for making this program available on YouTube.
---
Prohibition zealot Wayne Wheeler would do anything – from poisoning people to schmoozing with the KKK – to stop Americans from drinking alcohol.
THANKS to Comedy Central and Drunk History for making this program available on YouTube.
---
---
CAUTION: Some language may not be appropriate for work or children.
Me commentary on a brilliant rally. Source video via a piece by guy: https://twitter.com/apiecebyguy/status/1069947397982351360
---
箱を堪能するまる。Maru thoroughly enjoys the box.
---
FINALLY . . .
The treatment is supposed to reduce wrinkles by using skin cells from a baby's foreskin. Would it work for me?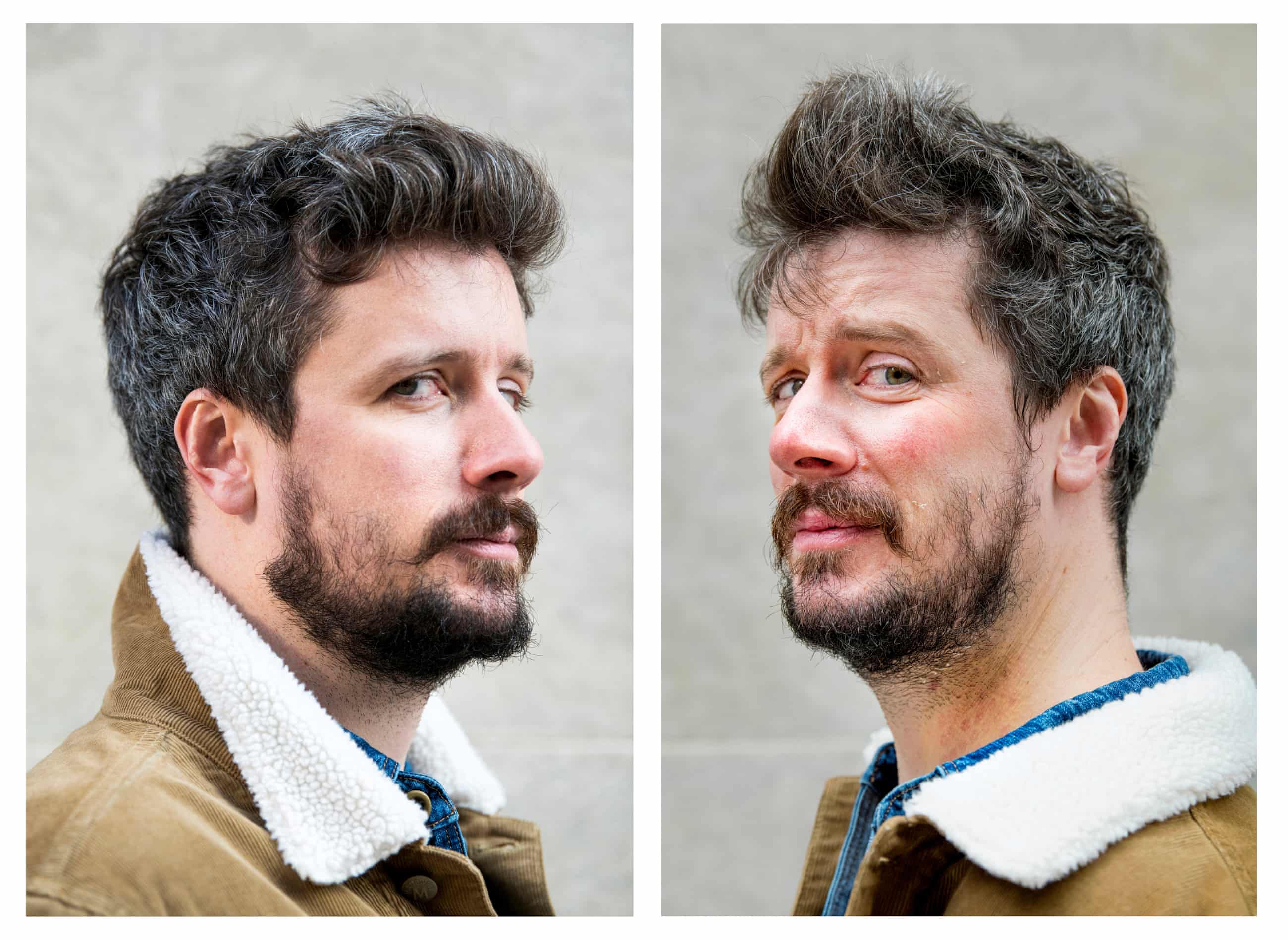 Adam Gabbatt: 'My face is very red and very shiny. On my neck there are red blotches from where the needles have done their work.'
I am on the phone trying to book a special appointment: a foreskin facial. The treatment is not widely available in the US, so the calls yield nothing except a series of confusing conversations.
"Do you do a foreskin facial?" I ask a facialist at one New York salon.
"We do a four-step facial called HydraFacial," she says.
"Does it have foreskin in it?" I say, a bit louder than before.
"Well it has four steps. First, we …"
"Sorry, I hate to labor the point – but does it actually contain foreskin?"
"I don't know what you mean. Foreskin?"
"Yes. Like on the end of a penis?"
"Oh no, we don't do it there. We only treat the face."
"No, I get that – but does the facial ingredient contain foreskin?"
"No. Goodbye."
The procedure, popular in Hollywood celebrity circles, injects cells from a baby's foreskin – specifically a South Korean baby's foreskin – into the face. Sandra Bullock and Cate Blanchett are big fans. Just last month Kate Beckinsale had one, and said it was "amazing". I was curious.
After a couple of false starts, I snag an appointment at the Georgia Louise Atelier salon, in Manhattan's Upper East Side, where they prefer to call the foreskin facial the "Hollywood EGF facial". It costs $650, plus tip, and mine is being administered by a woman called Sarah. …
---
Ed. More tomorrow? Probably. Possibly. Maybe. Not?