Do the work that makes you happy.

Have you ever noticed how goals are kind of a scam? You can set them, you can even reach them—but then you find that you're never done. As soon as you reach your goal, the target moves.
Some people enjoy this pursuit, which is perhaps why they relish the challenge of setting New Year's resolutions: weight loss goals to achieve, marathons to run, side hustles to start, gardens to grow, and savings accounts to fill. We revere goals—and the work it takes to achieve them—with near religious zeal in modern society. It's why we brag about how many hours we work and look at people like Elon Musk as a paragon of success (when in reality his 120-hour work week sounds pretty miserable). It's also why we're obsessed with waking up early and we try to make our hobbies lucrative or competitive instead of enjoyable.
While ambition is a perfectly reasonable quality, all these outcome-oriented tendencies translate to one simple thing: More things to do. And each day you don't do them is a day that you're failing. This, in my experience, feels bad. That's why, a few years ago, I gave up on New Year's resolutions. And in 2018, I went even further and tried to give up on goals altogether.
Instead, I set out a life thesis, a guiding credo that governs the decisions and choices I make. …
---
Peter Shinkle has written a superb and harrowing history of a dual life in a dark era of official oppression.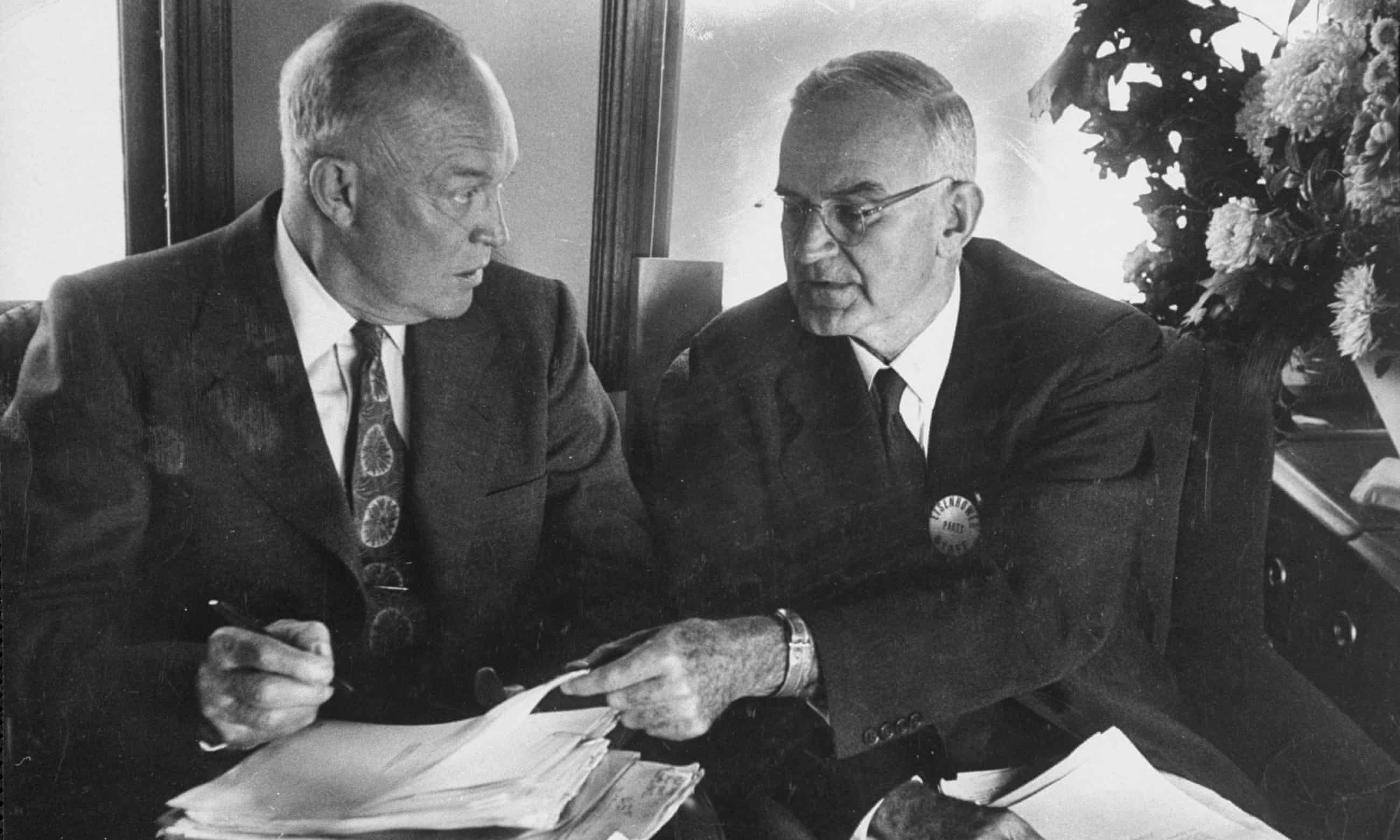 Dwight D Eisenhower dictates to personal secretary Robert Cutler.
This is a remarkable a book about an extraordinary man who was Dwight Eisenhower's "right hand" for foreign policy.
Robert Cutler, known as Bobby, was born into a prominent Boston family, the fifth of five sons whose friends had names like Cabot, Lowell and Lodge. He attended Harvard, fought in the first world war, graduated from Harvard Law School and served as corporation counsel for Maurice Tobin, a Democratic mayor of Boston. Then he became an army general, a senior strategist on Eisenhower's presidential campaign and America's first national security adviser.
He was also a banker, a poet, a cross-dresser who loved the female roles in amateur theatrical productions and a closeted gay man at the center of a gay White House love triangle.
Ike's Mystery Man is the perfect title for Peter Shinkle's fine biography, from which the big headline is about Cutler's shepherding of a disastrous 1953 executive order under which the lives of thousands of federal employees were destroyed just because they were gay.
Like nearly all gay men of his time, Shinkle writes, Cutler "struggled profoundly to find, recognize and accept his sexual and romantic orientation". And like far too many, he was perfectly willing to promote discrimination against other homosexuals, if it would help deflect suspicion from himself. …
---
PLAY TIME

Jenova Chen makes games that change people.
Jenova Chen is an innovative video game designer who describes himself as "a digital monk." What he means by this is that he's trying to cultivate peace, compassion and personal transformation through a medium that's often blamed for cultivating baser human instincts like aggression and violence.
Chen became interested in peaceful gaming when he fell in love with a fictional character. His first love was Zhao Ling'er, a girl in the popular Chinese video game Legend of Sword and Fairy. She haunted his thoughts when he was a teenager, eventually inspiring him to create critically acclaimed games like Flow, Flower, and Journey that have changed the gaming industry. He's now president of thatgamecompany, founded in 2006, which makes video games that focus on evoking sensations and provoking emotional transformation, operating like novels or films or poetry.
"Looking back, Legend of Sword and Fairy seems cliche to me now—just like a Romeo and Juliet story—but it was my first exposure to good drama and my first romantic experience," Chen tells me when we spoke on the phone last week. "It made me change, and made me into a better person. That's just super cool. And I realized I want to make thing that make people go through that reflective experience."
The designer grew up in Shanghai, China, eventually moving to the US to study storytelling at the University of Southern California's graduate school for film and new media. There, he honed his focus on video games, the medium that first made him feel deeply through narrative. …
---
We live in an era in which your phone can access pornography that would have driven your ancestors to the brink of madness, yet everyone is still way too shy about sex. At least, it's still hard to bring it up as a subject of serious conversation without everyone just giggling. This is a problem, particularly if you want to experiment a bit with toys or bondage, but don't know where to go for advice on how to do it right, or at least how to avoid doing it wrong.
This results in a whole lot of hospital bills and mortified patients, so allow me to at least scratch the surface of some things you should know.
5. You Can Take Classes On Risky Sex Play
---
Normally it's a bad sign when a college spells its name with a "K" but we'll give a pass to Kinky Kollege on this one. It exists to teach you about all the stuff you got kicked out of sex-ed for asking about, and all the positions that you think might maim you if you dare to try them. Let's peruse some of their course list, shall we?
"Artistic Cutting" is a class that will get into the "art of cutting and cutting as art." If you're not familiar with the term, it's not a metaphor — it's about drawing blood from other people for sexual thrill. The course disclaimer mentions that you need to bring your own partner (no slashing classmates). There's another class on the "intimacy of vaginal fisting," and one for cock and ball torture. There's even a class to go over the dynamics of pegging if you have a bigger body size. And of course, there's "Walk the Edge: How to Enjoy the Fear and Control That is Breath Play and Probably Not Kill Anyone."
You might know breath play already by way of its more popular cousin autoerotic asphyxiation, i.e. "the kind of jacking off that kills people" (see the lists of celebrities who died from it). It seems like there's no question that if this is your thing, it's safer with a partner, and safer still if you've learned from an expert how to do it. See what I mean? This is a subject you'd be nervous to bring up around the responsible adults in your life, and that fear of getting kink-shamed could get you killed. They're doing the Lord's work here.
Not that Kinky Kollege is the only place that will teach you about safely choking yourself off. Sex-focused workshops and classes aren't entirely uncommon if you go looking for them. Signing up for something like that may be awkward, but not as awkward as an emergency room visit or accidental death. Speaking of which …
CAUTION: The last hyperlink – for them – takes you to Reddit's BDSM Community.
Read on for Sweden making an effort to fix this, with plans to make backdoor toys meet some safety standards after years of ugly incidents.
Ed. Does that make you stop rolling your eyes in judgment of me and click the damn link to read the rest of the article?
---
RETAIL RESOLUTION

Overwhelmed.
I'm not sure if it was the crowds, the harsh lighting, the cheap fabric, or the overwhelming choices sprawled before me. But last December, staring at rows of scarves in an H&M in London, I decided I was fed up.
I was in the city temporarily, and I'd gone into the store to buy a few items that I had forgotten to pack. What I would have once taken as a simple sign of disorganization—the fact that I was spending money on clothing I already had—now felt like wastefulness, and left me feeling slightly ill. With New Year's Day around the corner, I decided to give up fast fashion for a year.
Fashion is a $2.4 trillion industry, according to estimates by McKinsey, and fast fashion, a big chunk of it, has completely reshaped the way we shop. Brands like H&M, Zara, and Forever 21, with their lightening quick responses to trends, speedy deliveries to stores, and ridiculously low prices, have outpaced competitors for years. But fast fashion is also a dirty industry, consuming massive amounts of natural resources and rife with unsafe labor conditions and exploitative practices.
Still, giving up fast fashion isn't the easiest choice. I was addicted to what our fashion reporter Marc Bain calls the "sad cycle of compulsive shopping, guilt, and regret" brought about by shopping at places like these. But somewhere along the line, browsing for clothes had stopped being fun and started feeling mindless. I wasn't prioritizing finding items I really liked, and I was getting rid of clothes as quickly as I was acquiring them. This was partly the result of mistrusting my own fashion sense, but it was also about the way I shopped. Why care about how well-made or good-looking a garment is if you can just replace it at minimal cost to yourself? …
POINT OF REFLECTION: I may appear to be a hypocrite by bashing resolutions, then suggesting one. Whatever.
I needed a sweater to look nice at work on Thanksgiving. Instead of going to the local Target store, I opted to visit a shop in Boulder, Alpaca Connection, to purchase a high-quality sweater costing nearly four times what I earned that day.
Interestingly, my last visit to Alpaca Connection was nearly 35 years ago, for a very similar reason.
---
Two obsessives' food diary, from breakfast eggs to a late-night slice, examined.
Do you know where your food comes from? Do you want to know? Truth be told, we all could stand to be more inquisitive about the provenance of the stuff that ends up on our plate. The best most of us do on a typical trip to Gristedes or Trader Joe's is to check the expiration date on a tub of yogurt; or, while perusing the menu at our neighborhood bistro, sheepishly ask the waiter where the shrimp is from or if the salmon is wild, at which point he or she will feign great interest and say, "You know, that is a very good question. Let me check with the kitchen," and then, of course, never get back to us. Taking as our premise that there might be a fascinating food-chain story behind each and every ingredient that goes into all the stuff we eat, we set out to track our daily grub as far back as we could, from the Peruvian coffee producers who make our local Rainforest Alliance Certified eye-opener possible to Sullivan County's last egg farmer, who happens to be responsible for the egg on a roll at one of the East Village's most legendary diners. And that's just breakfast. The goal of this exercise wasn't to tally food miles or weigh the pros and cons of agribusiness (though obviously those subjects demand constant and exhaustive scrutiny) but simply to trace the origins of things we modern eaters have largely learned to take for granted — and to acknowledge the seed breeders, fish processors, tomato canners, lime importers, and truck drivers who make it happen.
Coffee
---
7:30 a.m., Greenwich Village
The Daily Blend at Joe Coffee Company
Joe Coffee Company's house drip doesn't stick to a formula. The current incarnation is brewed from four varieties from Peru.
A Small Black Drip Begins on a Tree in the Andes
1. The roughly 3,000 small-producer members of the Cenfrocafe cooperative in Peru's mountainous northern region of Cajamarca pluck the ripened coffee fruit off their trees, de-pulp the coffee cherries, and ferment them.
2. The seeds are dried on platforms made of bamboo, chicken wire, and nylon mesh, or on the ground under a protective tarp. Dried coffee is bagged, and conveyed via truck or motorcycle or on foot to a regional purchasing station, then transported to the main Cenfrocafe warehouse in Jaén, where the coffee is evaluated and sorted into lots based on quality. …
---
Video Goodnesses
and not-so-goodnesses
Roy Wood Jr. and Ronny Chieng highlight 2018's biggest outrages, including the Trump administration's child detention policy and the murder of Jamal Khashoggi.
THANKS to Comedy Central and The Daily Show with Trevor Noah for making this program available on YouTube.
---
CAUTION: Some language may not be appropriate for work or children.
Consider this my New Year's content. A commentary on New York City 107 years ago. No worries.
---
珍しく箱に一緒に入っているまるとはな。Maru&Hana are in the box together.
---
FINALLY . . .
Carrier bags are easy to replace and milk can come in glass bottles. But what about deodorant, toothbrushes and clingfilm?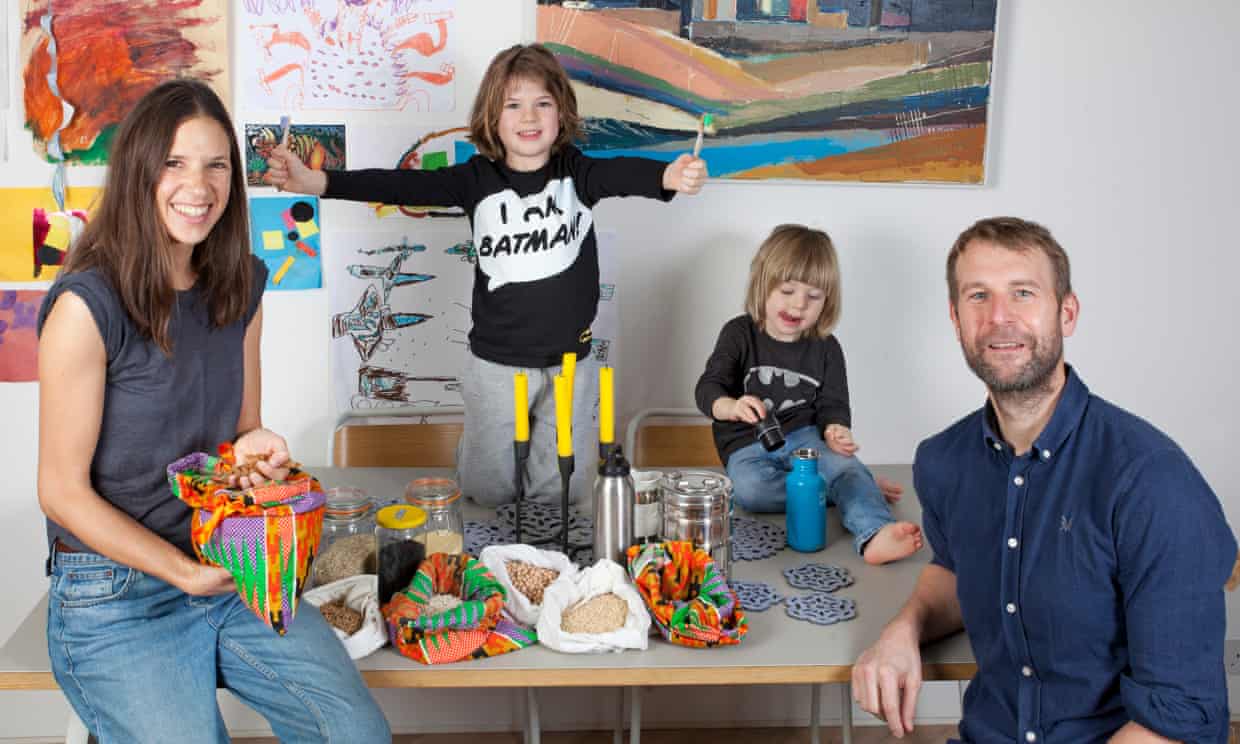 Bettina and Mark Maidment with Dominic, six, and Dexter, three.
Bettina Maidment hasn't emptied the kitchen bin since the beginning of November. The time before that was in August. "You can reduce your rubbish a lot," she insists, pointing to her recycling and food compost bins. "I have two kids and they're pretty anti-plastic – I am their mother after all – but it is do-able."
Maidment, 38, is the founder of Plastic Free Hackney, a campaign to rid the east London borough of single-use plastic and has been serious about committing her family to plastic-free, zero-waste living for two years now. First to go was milk cartons. "That was an easy switch, we got a milkman."
Then came bamboo toothbrushes, swapping out supermarket shopping for the local greengrocer, and making deodorant, cleanser, moisturiser and handsoap at home. She opens her fridge to reveal shelves of glass jars and reusable containers; her larder is stocked with lentils, pasta, porridge and the like, bought in bulk and stored in glass or canvas bags.
"At the moment, there are all these headlines about sales in shops being down, but maybe everyone has enough stuff."
Her aim, she says, is to instil the principle in her sons, who are three and six, "that they can be happy with as little as possible". …
---
Ed. More tomorrow? Possibly. Maybe. Probably Not? Groundhog Day. Groundhog Day. Maybe. Maybe. Groundhog Day. Groundhog Day.