Chicago tried to dig its way out of urban flooding decades before climate change made it a national crisis. Did the city, and its imitators, pick the wrong solution?
Pictured above: Construction workers lean in to discuss the project over the noises echoing throughout the Deep Tunnel.

That the Chicago River is reborn, that its tree-shaded promenades are thronged with strolling families, that new buildings turn toward the water and old buildings have opened new windows to face it, that people kayak in what was once an open cesspool in the middle of downtown—all of this is a point of pride here. People laughed when then-Mayor Richard J. Daley said in the '70s that he'd one day like to see people grilling freshly caught fish on the river's banks. Though it would have seemed insane in 1980 (or 1880), people do fish in the Chicago River today, and the number of species to be found here has multiplied tenfold in the past four decades.
That's because Chicago built a second river, an infernal reflection of the first, tracing its course hundreds of feet below ground. On rainy days, this subterranean passage, a conduit that can hold more than 1 billion gallons of wastewater, welcomes a roaring torrent of shit, piss, and oily runoff from the downtown streets. This megasewer, a filthy hidden portrait to the Chicago River's Dorian Gray, is dynamic enough to create its own wave action if not properly supervised. That's what happened on Oct. 3, 1986, when a geyser blasted through a downtown street, lifting a 61-year-old woman's Pontiac Bonneville into the air like a toy, nearly drowning the driver in dirty water.
Altogether, 109 miles of subway-size tunnel lie beneath Chicago and its suburbs, covering more miles than the L, culminating in three suburban reservoirs (not the kind you drink from). This is the Deep Tunnel, formally the Tunnel and Reservoir Plan, and it may be the world's most ambitious and expensive effort to manage urban flooding and water pollution. It is a project, in the visionary tradition of Chicago engineering, to bottle rainstorms.
According to the Metropolitan Water Reclamation District of Greater Chicago, the agency that built and runs the project, the tunnels and reservoirs protect 1.5 million structures from flooding, in addition to keeping sewage out of Lake Michigan and the Chicago River. Though not quite finished (the tunnels are done, the reservoirs are not), the scheme has been and is being imitated in cities like Milwaukee, St. Louis, D.C., London, and Guangzhou, where the concept, 50 years after it was undertaken in Chicago, is seen as the state-of-the-art solution to flooding damage and water pollution. …
---
In late November, the Justice Department unsealed indictments against eight people accused of fleecing advertisers of $36 million in two of the largest digital ad-fraud operations ever uncovered. Digital advertisers tend to want two things: people to look at their ads and "premium" websites — i.e., established and legitimate publications — on which to host them.
The two schemes at issue in the case, dubbed Methbot and 3ve by the security researchers who found them, faked both. Hucksters infected 1.7 million computers with malware that remotely directed traffic to "spoofed" websites — "empty websites designed for bot traffic" that served up a video ad purchased from one of the internet's vast programmatic ad-exchanges, but that were designed, according to the indictments, "to fool advertisers into thinking that an impression of their ad was served on a premium publisher site," like that of Vogue or The Economist. Views, meanwhile, were faked by malware-infected computers with marvelously sophisticated techniques to imitate humans: bots "faked clicks, mouse movements, and social network login information to masquerade as engaged human consumers." Some were sent to browse the internet to gather tracking cookies from other websites, just as a human visitor would have done through regular behavior. Fake people with fake cookies and fake social-media accounts, fake-moving their fake cursors, fake-clicking on fake websites — the fraudsters had essentially created a simulacrum of the internet, where the only real things were the ads.
How much of the internet is fake? Studies generally suggest that, year after year, less than 60 percent of web traffic is human; some years, according to some researchers, a healthy majority of it is bot. For a period of time in 2013, the Times reported this year, a full half of YouTube traffic was "bots masquerading as people," a portion so high that employees feared an inflection point after which YouTube's systems for detecting fraudulent traffic would begin to regard bot traffic as real and human traffic as fake. They called this hypothetical event "the Inversion."
In the future, when I look back from the high-tech gamer jail in which President PewDiePie will have imprisoned me, I will remember 2018 as the year the internet passed the Inversion, not in some strict numerical sense, since bots already outnumber humans online more years than not, but in the perceptual sense. The internet has always played host in its dark corners to schools of catfish and embassies of Nigerian princes, but that darkness now pervades its every aspect: Everything that once seemed definitively and unquestionably real now seems slightly fake; everything that once seemed slightly fake now has the power and presence of the real. The "fakeness" of the post-Inversion internet is less a calculable falsehood and more a particular quality of experience — the uncanny sense that what you encounter online is not "real" but is also undeniably not "fake," and indeed may be both at once, or in succession, as you turn it over in your head. …
---
CUTTING EDGE VICTORIAN TASTEMAKER THOMAS S. GOWING SAYS LET IT GROW.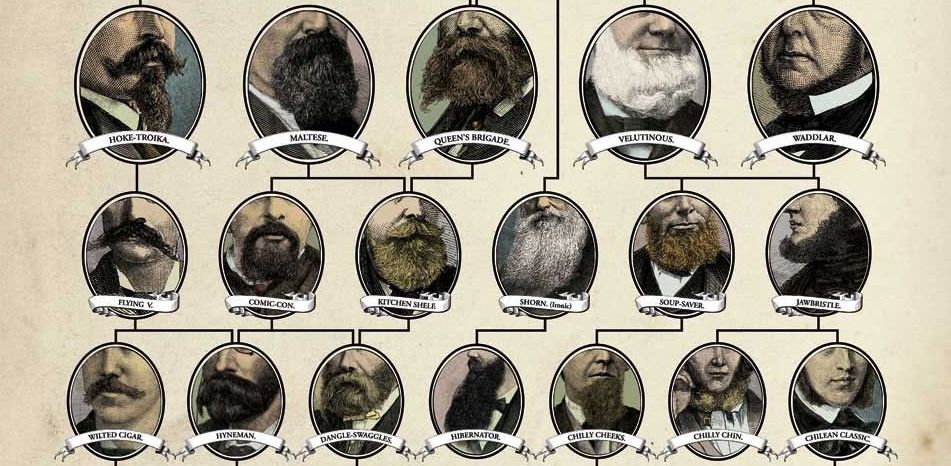 The Beard, combining beauty with utility, was intended to impart manly grace and free finish to the male face. To its picturesqueness, Poets and Painters, the most competent judges, have borne universal testimony. It is indeed impossible to view a series of bearded portraits, however indifferently executed, without feeling that they possess dignity, gravity, freedom, vigor, and completeness; while in looking on a row of razored faces, however illustrious the originals, or skillful the artists, a sense of artificial conventional bareness is experienced.
Addison gives vent to the same notion, when he makes Sir Roger de Coverley point to a venerable bust in Westminster Abbey, and ask "whether our forefathers did not look much wiser in their Beards, than we without them?" and say, "for my part, when I am in my gallery in the country, and see my ancestors, who many of them died before they were of my age, I cannot forbear regarding them as so many old Patriarchs, and at the same time looking upon myself as an idle smock-faced young fellow. I love to see your Abrahams, your Isaacs, and your Jacobs, as we have them in the old pieces of tapestry, with Beards below their girdles that cover half the hangings." The knight added, "if I would recommend Beards in one of my papers, and endeavor to restore human faces to their ancient dignity, upon a month's warning he would undertake to lead up the fashion himself in a pair of whiskers." In reference to this last allusion it may be as well to state, that the word whisker is frequently used by earlier authors to denote the moustache, and that in Addison's time, a mass of false hair was worn, and the head and face close shaven.
To shew that it is the Beard alone that causes the sensation we have alluded to, look at two drawings on exactly the same original outline, of a Greek head of Jupiter, the one with, the other without the Beard! What say you? Is not the experiment a sort of "occular demonstration" in favor of nature, and a justification of art and artists? See how the forehead of the bearded one rises like a well-supported dome—what depth the eyes acquire—how firm the features become—how the muscular angularity is modified—into what free flowing lines the lower part of the oval is resolved, and what gravity the increased length given to the face imparts.
As amusing and instructive pendants, take two drawings of the head of a lion, one with and the other without the mane. You will see how much of the majesty of the king of the woods, as well as that of the lord of the earth, dwells in this free flowing appendage. By comparing these drawings with those of Jupiter, you will detect, I think, in the head of the lion whence the Greek sculptor drew his ideal of this noble type of godlike humanity. …
---
Ed. More tomorrow? Probably. Possibly. Maybe. Not?