---
to set a mood • • •
---
Big commercial online news providers are shedding staff in large numbers as social media firms swallow advertising revenues.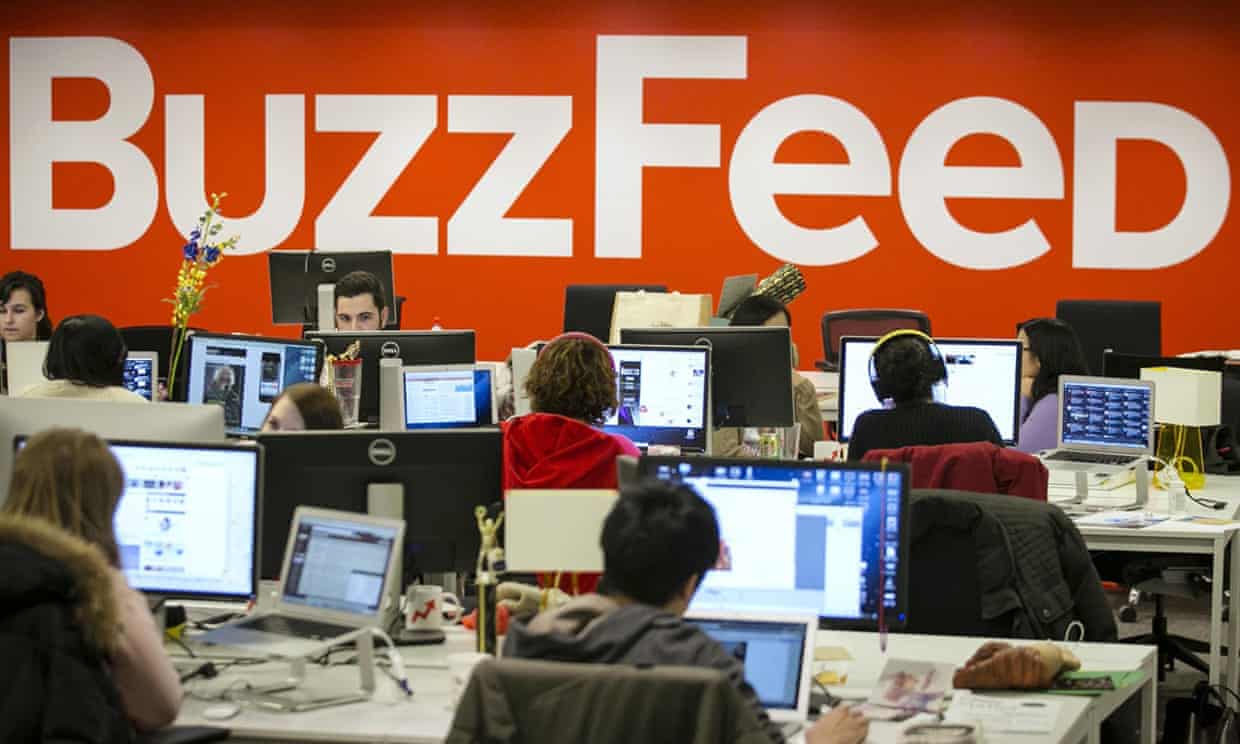 The newsroom at BuzzFeed, where 220 jobs are being cut across departments.

In December 2016, Jonah Peretti, the charismatic founder of the digital news and entertainment company BuzzFeed, penned his annual memo to his 1,400 staff. The memo outlined some of Peretti's frustrations after that year's US presidential election had revealed how much shoddy and misleading content was circulating online. His own news site had revealed some of the biggest stories in the "fake news" scandal that engulfed Facebook. But Peretti's remedy was not regulation or chastisement of Facebook, but a concern that the old guard of so-called "legacy media" were also to blame.
"Media companies have been much too slow to shift to digital," he wrote. "They've clung to print and broadcast, even when it was clear audiences are moving elsewhere. This means the budgets for quality journalism are focused on the wrong places, creating a void that is filled by the cheapest possible content, often from questionable sources."
In New York City, in January 2019, it is brutally cold. Winter has arrived with savage consequences for digital publishers, including BuzzFeed. In the space of two weeks, about 2,100 jobs have been lost across the media, with many disappearing from purely digital publishers. BuzzFeed's layoffs amounted to 15% of its total staff, a loss of around 220 jobs across all departments, including in its widely admired New York newsroom. On Friday, Vice, another media company once associated with fast growth, said it would lay off 10% of its workforce, while last month, the phone company Verizon, which owns Huffington Post and Yahoo, cut 800 workers in its media division. In the UK, the Pool, a website aimed at women launched in 2015 by radio presenter Lauren Laverne and magazine editor Sam Baker, went into liquidation, with 24 journalists facing redundancy.
Many of these layoffs played out in real time on Twitter as journalists reported on the fumbling and often ineptly cruel ways in which they were let go. Reporters at Vice knew of the layoffs and sometimes had their email accounts closed before being told by the company they were among the casualties. …
---

Robin Mongoyak and his young son enjoy the sunshine out on the southern edge of Utqiaġvik.
In the northernmost town in the United States, the sun stops appearing above the horizon in November and doesn't make it back up until January.
That first sunrise of the new year is the pivot-point on which winter turns and begins to move toward spring, delivering people on the northern Arctic coast of Alaska from the long spell of darkness.
When the sun comes up in Utqiaġvik, it makes a dramatic entrance: a thumbnail of neon pink inching above the horizon. And people are so, so glad to see it.
"When we get the sun back it's a completely different atmosphere," says Utqiaġvik resident Malcolm Noble. "You see people's faces light up. You just want to step outside."
If you're not from here, Utqiaġvik has an other-worldly look at any time of year. It's almost totally flat. There are no trees, no mountains.
But it's especially striking now, when the cluster of homes and buildings on the cusp of the Arctic Ocean are surrounded on all sides by white: the flat expanse of the snow-covered tundra to the south, and the frozen tumble of sea ice to the north. …
---
Thomas W. Morse, the Missouri postmaster known for his legendary dislike of living creatures, was also an author who invented the literary genre of "villainoir", in which monstrous people were romanticized as dark, underestimated antiheros.

— Fake Atlas Obscura (@notatlasobscura) February 1, 2019
---
Joseph Stalin hoped to have Morse write his biography, and was greatly disappointed to learn Morse had died earlier, remarking that "a skilled writer sees the good in a wicked man, and makes it visible; Morse sees the wicked, and makes it great."

— Fake Atlas Obscura (@notatlasobscura) February 1, 2019
---
The American Museum of Natural History is conserving—and reconsidering—these monumental carvings.

Soraya Alcala Carbonero (left) and Madeleine Neiman (right), assistant conservators, treat a Tsimshian house post.
Four red cedar Tsimshian house posts have stood in the hall since the windows opened up onto fields and rail tracks, since the gallery was illuminated by gaslight, since the museum was heated by coal. The painted, carved stacks of creatures—eagles, bears, humans, and more, with faces much wider than visitors'—arrived at the American Museum of Natural History in New York in the waning days of the 19th century, when guests swanned about wearing corsets or double-breasted tailcoats.
The world has changed before the totem poles' painted eyes, and the years have taken their toll. The conservation crew now tasked with freshening up these 15-foot-tall fixtures of the Northwest Coast Hall has had a big job, says conservator Samantha Alderson: "a hundred-plus years of heavy soiling and dust."
The hall, which encompasses the arts of Native communities across the northwestern edge of the United States and Canada, was never supposed to look as it does now. Originally, light streamed in through large, arched windows, bathing the totem poles in sunshine. But slowly the museum was built up around this gallery, and it was boxed in by other rooms; the institution is now a complex of 25 interconnected buildings jammed together. In the Northwest Coast Hall, the light disappeared. The place had grown so dark, curator Peter Whiteley recalls, that people used to jest that visitors needed to "bring your own flashlight to enjoy the collection."

In 1913, the museum still had wide-open views.
It was a joke, but just barely. The room was dim, and over the years the posts darkened, too. Because they sat exposed, instead of behind glass, staff members had tried to clean them over the decades using whatever they thought they ought to. "Well-meaning, all of it, I'm sure," Alderson says, "but the approaches have changed." Damage collected in layers—dirt sandwiched between swaths of uneven cleaning and resin that turned the wood dark brown and gummy, and concealed, dulled, or muddled the bright original colors. Dust blew in through open windows, and settled. The massive poles were also easily within visitors' reach, and not everyone kept their hands to themselves. Some scratched their initials into the wood; others popped their chewed gum into the the figures' mouths.
The museum is now in the process of a major overhaul of the section, which will close to the public this winter and reopen in 2020. …
---
American author Constance Woodyard based most of her characters on how she imagined her possessions would act if they were transformed into people.

— Fake Atlas Obscura (@notatlasobscura) January 31, 2019
---
Mark Twain served as a Kentucky senator for eight hours during the Great Neglect of 1874, and described the experience as "somewhere between being a rabid dog and the hand that feeds it."

— Fake Atlas Obscura (@notatlasobscura) January 30, 2019
---
"Social atomization" is a term that sounds like science fiction. It could be the title of a 1950s B-movie where a mad scientist vaporizes a dance party. But when sociologists use that term, "social atomization" is a complementary set of shifts you might have noticed lately: more loneliness, less societal trust, and an increasing feeling that nobody's got your back. What does it mean if that's happening to all of us? How can that happen without anybody intending it? And can that impact everything from your personal health to your national government?
On this episode of The Cracked Podcast, Alex Schmidt sits down with Jason Pargin (who writes for the site as David Wong). They'll explore why prior generations with rampant crime (!), Richard Nixon (!!), and the music of disco (!!!) feel better off and more cohesive than we do today. We'll also take one step back and look at the awful reasons why some people are talking about this in the first place. And if we all stick together and trust each other, we might see a few ways out of this predicament. …
---
The "Kodanago" was an evil spirit who supposedly inhabited public telephones and wreaked conversational havoc by saying terrible things in both participants' voices.

— Fake Atlas Obscura (@notatlasobscura) January 29, 2019
---
Master woodworker Alice Maberly, who counted J. P. Morgan among her clients, concealed scotch bottles within the furniture she designed in case she was invited to a client's home and not offered her preferred quantity of alcohol.

— Fake Atlas Obscura (@notatlasobscura) January 28, 2019
---
The striking mutation is a bit of a mystery.

The blue-eyed coyote that Dietrich first photographed on January 28, 2018.
DANIEL DIETRICH WAS HAVING A typical day at Point Reyes National Seashore in Northern California, where he works as a photographer and guide, when he photographed a coyote that had just traipsed down a hillside for a drink of water.
"I didn't think anything of it until I noticed at my computer that her eye color was blue," Dietrich says of the January 2018 day. "I've taken thousands of photographs of hundreds of coyotes and have never seen that before."
Dietrich showed the images to some biologist friends, and they were surprised, too. After all, coyotes almost always have golden-brown eyes. Since that first photograph was taken, five blue-eyed coyotes have been documented in Northern California—two in Point Reyes, and the others in Santa Cruz and Sacramento—so the trait appears to be becoming more common in the area.
Though wild canids sometimes acquire new traits from interbreeding with dogs, that does not appear to be the case here. "It's a very interesting phenomenon and there needs to be much more research before people make wide-ranging pronouncements about what's happening," says University of Colorado ecologist and evolutionary biologist Marc Bekoff. The consensus so far is that the blue eyes are likely the result of a natural, if rare, genetic mutation. …
---
Hjálmar, the Icelandic space program's first and only probe, inspired an animated cartoon series in which the anthropomorphized spacecraft dispensed social advice, cooking suggestions, and helpful tips on how to handle madmen.

— Fake Atlas Obscura (@notatlasobscura) January 25, 2019
---
Meet the Faraday cage in which, according to legend, Nikola Tesla confronted time travelers sent by Thomas Edison to sabotage his work.

— Fake Atlas Obscura (@notatlasobscura) January 24, 2019
---

Will you eat him?
They are often an unwanted visitor to gardens, thanks to their reputation for raiding bird feeders and stripping trees of bark.
But grey squirrels are finding a warmer welcome to the dining table, as chefs and retailers report increasing interest in eating the furry rodent.
The rise in popularity is believed to stem from diners' growing interest in sustainable, cruelty-free food, which sees them turn to "wild meat" from animals which would have been culled anyway.
The grey squirrel is one such animal, classed as an invasive pest which has few predators in the wild and out competes the endangered red squirrel.
To reduce waste, chefs are using the carcasses of culled squirrels in pancakes, croquettes and even lasagne.
Ivan Tisdall-Downes, who runs the restaurant Native in London's Borough Market, makes a squirrel ragu by slow cooking the meat from its hind legs. His wild boar supplier happens to help with grey squirrel culling, and sends the carcasses down to the restaurant. …
DEGREE OF DIFFICULTY: Go on, say it. "Tastes like chicken." Not so much.
---
Video Goodnesses
and not-so-goodnesses
Trump insists that people call his border wall a wall even though he's the one who's been calling it other things.
---
Comedian Mo Amer talks about coming to the U.S. as a refugee from Kuwait, traveling in and out of the country without a passport and the time he wound up sitting next to Eric Trump.
THANKS to Comedy Central and The Daily Show with Trevor Noah for making this program available on YouTube.
---
Stephens breaks down the video in which New Jersey Senator Cory Booker kicked off his 2020 presidential campaign.
THANKS to CBS and The Late Show with Stephen Colbert for making this program available on YouTube.
---
まるのしっぽ。-Maru's tail.
---
FINALLY . . .
WHO ARE YOU CALLING "DUMBASS"?

No one should feel they need to hide, even when asking the most basic questions.

Every software developer is familiar with the site Stack Overflow, the 11-year-strong compendium of questions and answers. Part knowledge base, part social network, and wholly useful, Stack Overflow offers help with virtually every programming language and software package.
It uses a Reddit/Quora-like interface, with the most useful or implementable answers upvoted, and non-answers or incorrect answers downvoted into oblivion, or deleted altogether by one of Stack Overflow's perceptive moderators. Users often ask questions after a tiring stint of Googling error messages and not finding the help they need, or staring at a problem and not knowing where to begin. While I haven't contributed as many answers as I've benefited from over the years, I use the site daily, and it's common for me to leave a URL to a Stack Overflow answer as an explanation in a code comment.
In the years I have used the site, I have noticed one disturbing phenomenon in particular, which I think every developer should strive to avoid: the self-deprecating, almost self-berating tone that some developers take when asking for help.
Searching for the phrase "I'm an idiot" on StackOverflow returns more than 10,000 results on Google. Searching for "this is a stupid question" returns a similar set. The phrase "I'm a dumbass" appears in dozens of questions, the phrase "I'm too stupid" in hundreds—even in esoteric queries, such as "I seem to be too stupid to parse…HTML Files with Bash."
Is this how one should be referring to oneself in any career, much less in software development, one of the most lucrative and intellectually challenging fields of the 21st century? And is this how one should refer to oneself on one of the most visible platforms for software developers on the web? …
---
Ed. More tomorrow? Probably. Possibly. Maybe. Not?