---
to set a mood • • •
---
Al Otro Lado helps asylum seekers navigate a system that has become increasingly difficult under the Trump administration.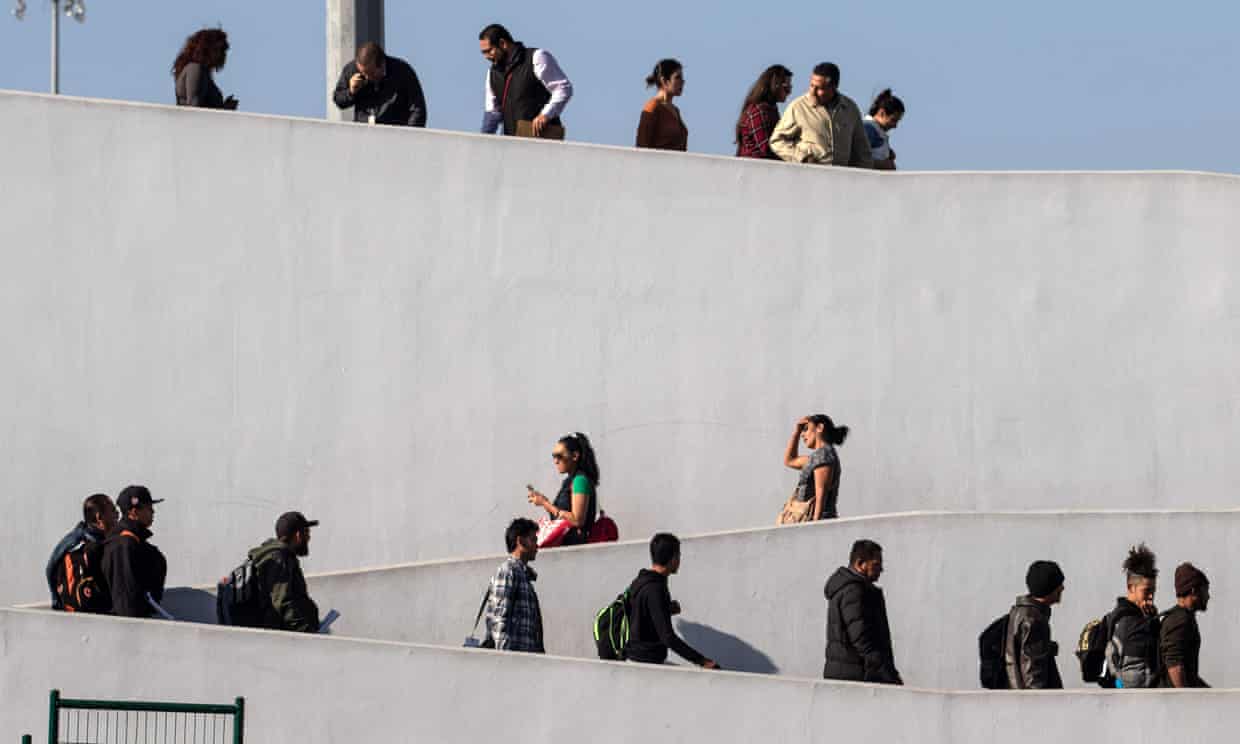 Asylum seekers return to Mexico from the US while their cases are processed by authorities, at the El Chaparral border crossing on the US-Mexico border on 30 January 2019.

The El Chaparral crossing from Tijuana, Mexico, into the US is the crossroads of the world. Sisters from El Salvador plait one another's hair; men from Cameroon await an asylum hearing on the far side. Iranians play dice; a father from Brazil buys his child a taco from a street stand with carefully counted coins.
Groups of young Americans also converge carrying armfuls of papers. They are also migrants of a sort: they have come from all over the US to volunteer for a remarkable organisation called Al Otro Lado – To the Other Side.
As the Trump administration turns the screw on migrants – refusing to accommodate those awaiting asylum interviews as law requires – these people, their counsel and sustenance to those in flight and need, are a counterforce against cruelty.
Nicole Ramos, the director of the group's border rights project, defines Al Otro Lado's job as "work that never ends". And the principle of that work is "to get the courts and federal law enforcement to follow federal law. To stop the people whose role is to uphold the law from routinely breaking it".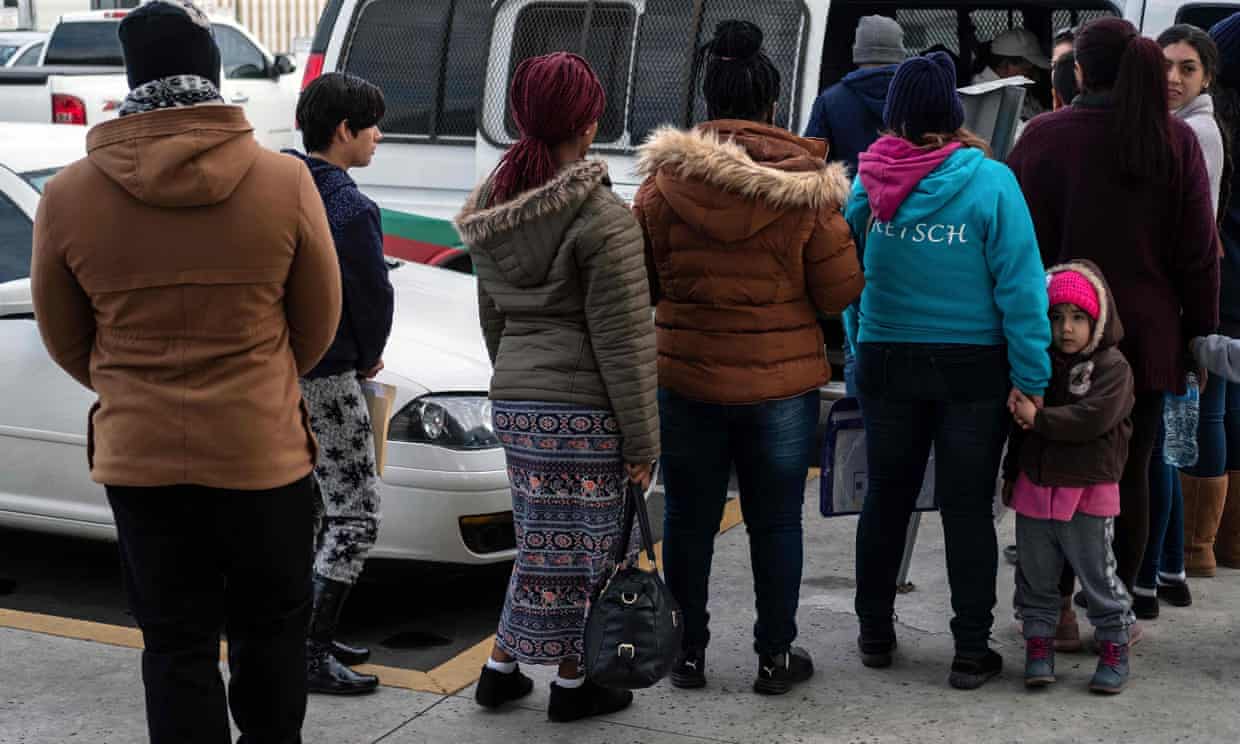 Asylum seekers wait to be transported to the US, at El Chaparral crossing port at the US-Mexico border, in Tijuana, Mexico.
Ramos exudes tireless, effervescent purpose. She wears a ring made of bullet casing, with the round made of obsidian. "I came here to apply what I knew about the broken system," she says. …
---
UNREAL

The biggest challenge facing educators is how to teach students to be critical information consumers.
The photograph shows three malformed daisies, warped as if plucked from a Salvador Dali painting. An accompanying caption claims that the photo was taken near the site of the Fukushima nuclear explosion in Japan, noting, "This is what happens when flowers get nuclear birth defects."
In 2015, 170 American high-school students were asked a simple question: Does the photo provide evidence that the caption is true?
The image looked sketchy, to say the least. It was posted on Imgur, a photo-sharing platform, by a user with the handle "pleasegoogleShakerAamerpleasegoogleDavidKelly." It had no attribution as to the photographer, original publisher, or location. And yet, when asked whether the photo provided evidence that the Fukushima nuclear explosion caused malformations in daisies, nearly 40% of the students said yes. (As an aside, the photo was indeed real—but scientists say it's unlikely the malformations were caused by radiation.)
The experiment was part of a larger study conducted by researchers from Stanford University's History Education Group (HEG), who set out to measure what they called "civic online reasoning"—that is, young people's ability to judge the credibility of the information they find online. To do this, they designed 56 different assessments for students in middle schools, high schools, and colleges across 12 states. The researchers say they collected 7,804 student responses.
In their own words, the researchers initially found themselves "rejecting ideas for tasks because we thought they would be too easy"—in other words, that students would find it obvious whether or not information was reliable. They could not have been more wrong. After an initial pilot round, the researchers realized that most students lacked the basic ability to recognize credible information or partisan junk online, or to tell sponsored content apart from real articles. As the team later wrote in their report, "many assume that because young people are fluent in social media they are equally savvy about what they find there. Our work shows the opposite." …
---
In a new study, researchers uncovered female programmers who made important but unrecognized contributions to genetics.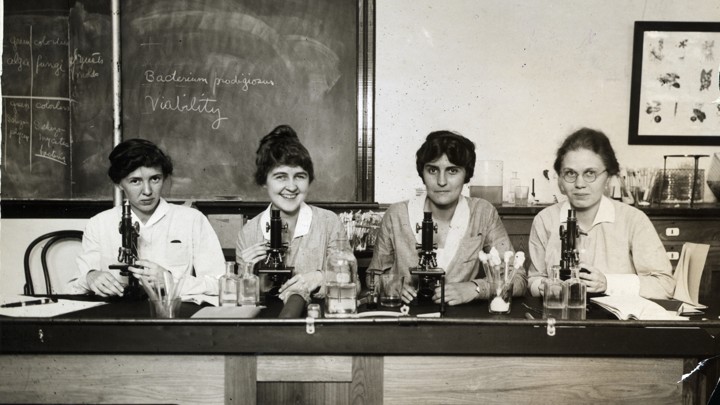 The names of the women seated before microscopes in this undated photo were not recorded.
In science, the question of who gets credit for important work—fraught in any field—is set down on paper, for anyone to see. Authorship, given pride of place at the top of scientific papers, can advance reputations and careers; credits buried in the rarely read acknowledgments section do not.
Over the past few years, a team of students led by Emilia Huerta-Sánchez from Brown University and Rori Rohlfs from San Francisco State University have been searching through two decades' worth of acknowledgments in genetics papers and discovering women who were never given the credit that would be expected for today's researchers. They identified dozens of female programmers who made important but unrecognized contributions. Some were repeatedly thanked in the acknowledgments of several papers, but were never recognized as authors. They became literal footnotes in scientific history, despite helping make that history.
"When Emilia and I look at our elders in population genetics, there are very, very few women," says Rohlfs. "But there were women and they were doing this work. To even know that they existed is a big deal to me."
The project started with Hidden Figures, the 2016 movie about three black female mathematicians who helped NASA win the space race in the 1960s. After seeing the film, Huerta-Sánchez and Rohlfs felt surprised that they had never heard of its three protagonists. How many other historical female scientists were they similarly unaware of, they wondered? …
---
HIDDEN FIGURES is the incredible untold story of Katherine G. Johnson (Taraji P. Henson), Dorothy Vaughan (Octavia Spencer) and Mary Jackson (Janelle Monáe)—brilliant African-American women working at NASA, who served as the brains behind one of the greatest operations in history: the launch of astronaut John Glenn into orbit, a stunning achievement that restored the nation's confidence, turned around the Space Race, and galvanized the world. The visionary trio crossed all gender and race lines to inspire generations to dream big.
---
Americans have a lot of political stereotypes. All Republicans think climate change is a hoax, all Democrats want to take your guns away, all libertarians want to do cocaine in tax-free underwater fortresses, etc. But there are some ideas we've accepted as fact for so long that we've never bothered to take a closer look at them, even though they clearly don't add up if you do so. For instance …
5. Myth: Voting Rights Are Only A Problem In Red States
---
Voting rights are a joke in gun-totin', Bible-beltin' Republican strongholds. Look at Georgia, Texas, and the dumpster fire that is North Carolina. Whether it's restrictive ID laws or voter rolls being purged, Republicans will do everything they can to keep minorities and the poor from voting. Not that it even really matters, because those states are so heavily gerrymandered that an open sex offender could cruise to a victory on the GOP ticket. Republicans will destroy democracy if we don't stop them!
But the problem with dumpster fires is that it's easy to overlook the one in your own backyard. It was widely reported that Georgia purges more rolls than a terrible bakery, but did you know that in 2016, 200,000 voters were illegally purged from the rolls in New York City? Though New York learned its lesson (or at least learned that getting caught sucks) and passed sweeping legislation to modernize the state's voting rights.
Meanwhile, reliably blue New Hampshire is among the states making it harder to vote. Between tough ID requirements, poll hours, registration deadlines, and more, the Granite State is one of the hardest states in the country to vote in. Virginia is even worse, and New Mexico sucks too. Both have wanted the D in the last three presidential elections.
Rhode Island makes the list too, but we're assuming that's because there wasn't space for a second voting booth.
Democrats alike. New Jersey Democrats tried to abuse the state constitution to rig themselves guaranteed supermajorities for the foreseeable future, and only backed off thanks to a national outcry. One of the most gerrymandered states is Illinois, which packs districts in the Chicago area so they're safe for Democrats while making downstate districts locks for Republicans. 90 percent of Illinois races were either uncontested or only had a token opponent. That's also how an avowed neo-Nazi could get on the ballot. If your rules are terrible, you attract terrible people.
Laws that make it harder to vote, or rig the elections that you can vote in, favor incumbents. So any dirty politician — like the one who stayed on the ballot and won while on trial for shooting his wife — has a lot to lose if voting becomes fairer. Yes, Southern voting is a mess that needs to be addressed. But ultimately, it doesn't matter if a politician is a Democrat or a Republican if, first and foremost, they're also a colossal shithead. …
---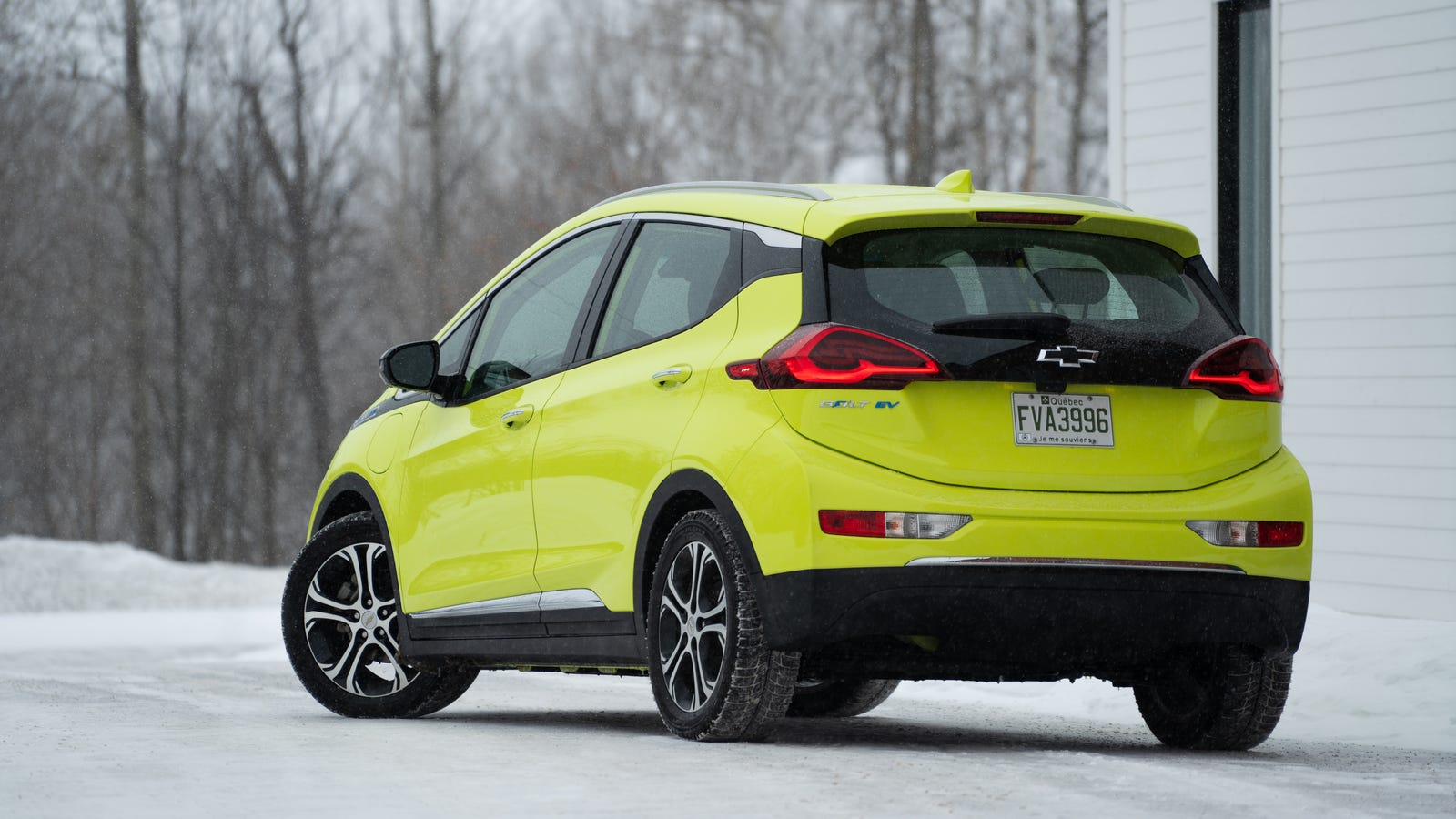 Electric cars may be the solution to some of our problems, but if they're going to be our main source of transportation they need to work everywhere, all the time.
On a warm, dry road in southern California, EVs seem to have no problem operating as promised. But how do they cope with the harsh realities of a real winter? Can they survive subzero temperatures, repetitive snow storms and freezing rain during six grueling months?
To find out, I ventured out on a very Canadian quest behind the wheel of a 2019 Chevrolet Bolt EV in the middle of January. Turns out, if you're going to commit to daily driving an electric car in a northern region, you'll need to consider a few things first.
(Full Disclosure: Chevrolet Canada wanted me to drive the 2019 Chevrolet Bolt EV in winter so badly it charged one up, threw a bucket of fluorescent yellow paint on it, and handed me the keys for a week.)
What Is It?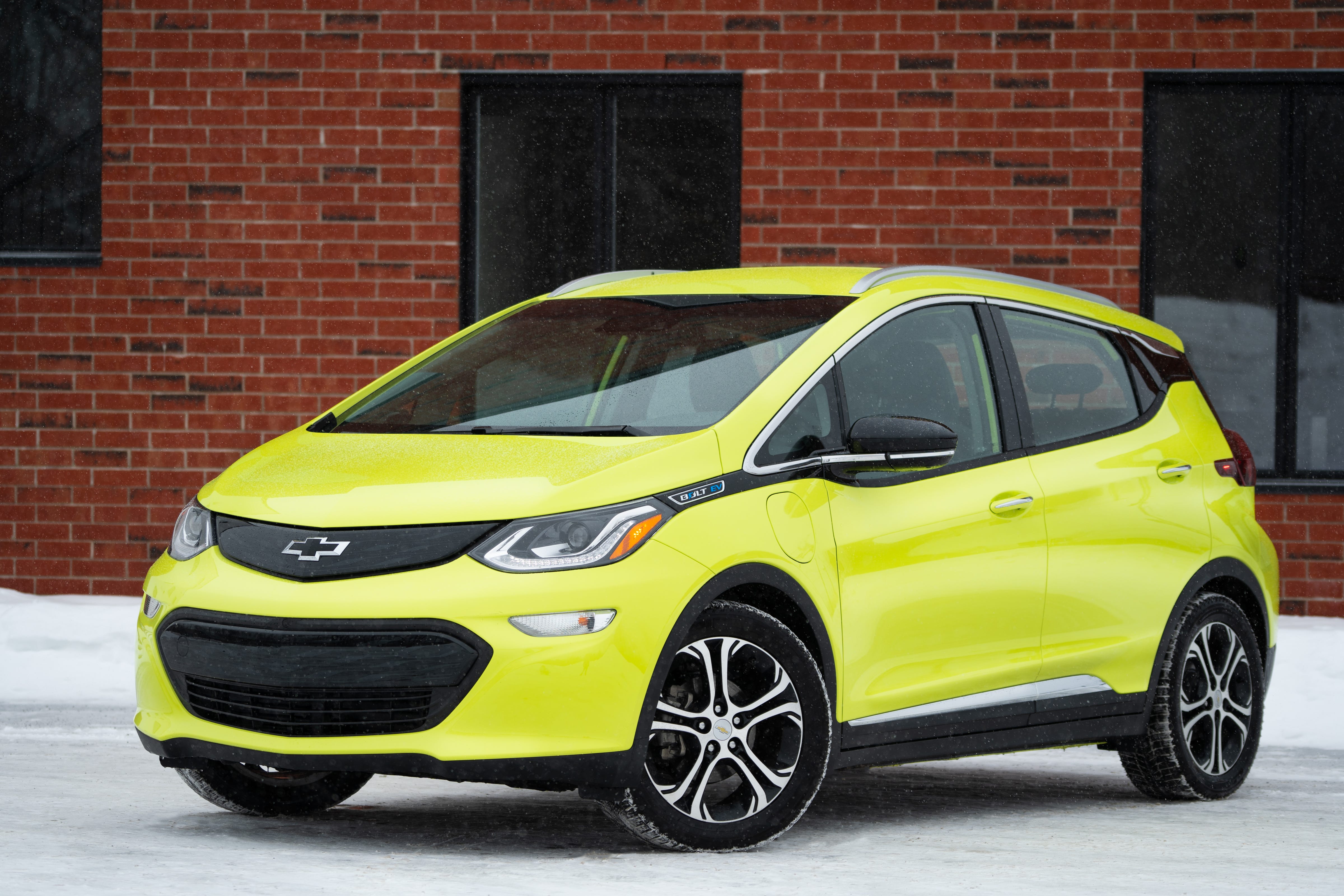 The Chevrolet Bolt EV isn't new. It was first introduced in 2016 as GM's first real attempt at selling a fully electric automobile to the masses after its debacle with the EV1.
It was also a response to the Tesla Model 3. General Motors wanted to beat Elon Musk in the affordable EV race and it knew it needed something a little more substantial than the plug-in hybrid Volt to get there. When you think about it, GM kind of won that race.
But now, times have changed. …
---
Frank "Wild Mario" Bellini, an old-West entertainer, killed two men with only playing cards. Bellini could hurl a paper card at more than 90 miles an hour and later patented "swish cards", concealed, innocuous-looking weapons similar in function to throwing stars.

— Fake Atlas Obscura (@notatlasobscura) February 11, 2019
---
The peculiar story of Apophomas, a mostly forgotten Biblical figure who used his lock-picking abilities to spring the unrepentant from Hell.

— Fake Atlas Obscura (@notatlasobscura) February 11, 2019
---
On Valentine's Day 1994, protestors in Hollywood turned out to eulogize the Brown Derby.

In 1943, the Brown Derby restaurant on Vine Street, in Hollywood, was a place to dine and dish gossip.
When buildings are knocked down, people often don't let them go without a fight. This week, we're remembering some particularly contentious demolitions.
THE PALLBEARERS GATHERED ON THE sidewalk, their hands gripping the flower-strewn casket and their heads capped with bowler hats. One man hoisted a sign in the air. It was shaped like a tombstone, but read a bit like a death certificate. It diagnosed the building's cause of death as heartsickness, compounded by years of neglect.
It was February 14, 1994—"a Valentine's Day heartbreak," the Los Angeles Times reported, for Hollywood preservationists watching a beloved outpost of a restaurant chain tumble down before their eyes. The crowd, donning jaunty chapeaus, had assembled amid the rattling chorus of tractors, bulldozers, and drills to mourn the loss of the Brown Derby restaurant on Vine Street.
Many locations of the iconic California chain were known for a kooky architectural conceit: restaurants in the shape of brown hats. The Vine Street eatery looked bland by comparison—though a hat-shaped sign did glow atop the roof—but it was particularly famous for what happened inside the wood-paneled dining room. There, gossip flowed like water. Agents and reporters had hobnobbed over cocktails; Marlene Dietrich once strolled through the restaurant in deliciously scandalizing slacks; Clark Gable wooed Carole Lombard in a cozy booth, over brimming drinks and hearty meat swimming in sauce.

Many Brown Derby restaurants, like this on Wilshire Boulevard, in Hollywood, were shaped like hats.
Demolition had been progressing for the past few weeks. It wasn't exactly a surprise. A lease dispute had prompted the restaurant to stop serving nearly a decade earlier. While it sat shuttered, the building was badly damaged by a series of fires; then, when it was shaken by the Northridge earthquake—which splintered freeways, exploded gas mains, and killed dozens of people in January 1994— local officials deemed it beyond repair. "We tried to save the building, but the Building and Safety Department declared in an imminent hazard, and a threat to public safety," Councilwoman Jackie Goldberg told the L.A. Times. …
---
Centuries before Uri Geller, the infamous Swaying Spoons of Wendersley bent themselves double when in the presence of either great good or great evil; a conundrum that inspired at least one riot.

— Fake Atlas Obscura (@notatlasobscura) February 6, 2019
---
Abbette Schwartzmann, heiress to the Schwartzmann tobacco fortune, designed her mansion to stand on two legs and even walk several steps, similar to Baba Yaga's house.

— Fake Atlas Obscura (@notatlasobscura) February 5, 2019
---
Video Goodnesses
and not-so-goodnesses
While President Trump continued to battle with Congress over funding for building the border wall with Mexico, his former chief strategist Steve Bannon was out in Arizona to back a do-it-yourself approach.
Once the planet's most powerful political strategist with access to the Oval Office, Bannon is now raising money to fulfill Trump's signature campaign promise. On Friday he headlined an event at the banquet hall of a retirement community in Arizona to raise private funds for a border wall — made out of hemp. So far the project has raised an astonishing $22 million from small donors in just over a month.
He wants the wall to be technologically state-of-the-art. "I'm obsessed with the hempcrete," Bannon said, referring to a concrete-like construction material made from hemp. "I think this plant has got tremendous entrepreneurial aspects to it and it's innovation. We're not sitting there saying, 'Hey, just a concrete wall or just a steel barrier.' It has to be advanced technology."
VICE News joined Bannon and the team behind 'We Build the Wall' to learn how they plan to side-step Washington and build their own wall.
THANKS to HBO and VICE News for making this program available on YouTube.
---
Donald Trump took to Twitter during his 'Executive Time' to explain how he spends his 'Executive Time.'
---
Jeff Bezos coined a new euphemism for male genitalia in his blog post, 'No Thank You, Mr. Pecker.' And it's not 'pecker.'
---
'Last Week Tonight' host John Oliver looks ahead to what might happen in the U.K. should no deal be reached on the Brexit.
---
'Last Week Tonight' host John Oliver accepts one of the Late Show's most prestigious honors.
THANKS to CBS and The Late Show with Stephen Colbert for making this program available on YouTube.
---
The President is supposed to sit and take it one day a year and if the WHCA isn't going to do it, we're serving his favorite meal. Join us on April 27th at 10pm.
---
Seth takes a closer look at President Trump attacking Democrats running for president and those investigating him in Congress.
THANKS to NBC and Late Night with Seth Meyers for making this program available on YouTube.
---
Donald Trump makes his way to the podium to deliver his 2019 State of the Union address, while Mike Pence and Nancy Pelosi wait patiently…
---
中身を出すと、まるがINします。Maru enters when I take out the contents of the box.
---
Drunken Ledge, in southern New Hampshire, is one of the few places in America where the disorienting view—a result of compounding optical illusions—creates a lingering sensation of intoxication.

— Fake Atlas Obscura (@notatlasobscura) February 4, 2019
---
Once popular in the 18th and 19th centuries, scrovelhouses—specialized laundromats that wash black magic from clothes—are making a comeback.

— Fake Atlas Obscura (@notatlasobscura) February 4, 2019
---
FINALLY . . .
A humorous dialogue between a cleaner and customer, useful to both ancient scribes and modern scholars.

The ruins of the ancient city of Ur, in present-day Iraq.

IF YOU HAD SOME THREADS that you wanted to spiff up for a special occasion in ancient Mesopotamia, what would you do? Take them to the cleaners, of course. While the cleaning agents may have been different—beer, clay, an eastern wind, and even urine—the overall process would have been remarkably similar to what happens today.
We know this thanks to an Akkadian cuneiform text from ancient Ur (a Sumerian city-state in present day Iraq), dubbed "At the Cleaners" by scholars, dating back to 1600 B.C. or so. The tablet, held by the British Museum, contains a humorous dialogue between a cleaner and his customer, in which the customer does most of the talking.
The text is a take on the classic, "the customer knows best" trope, says Martha Roth, editor in charge of the Chicago Assyrian Dictionary, except that in this case the client isn't just making idle demands—he really does know how the task is done. But that doesn't make him any less of a pest. He gives the cleaner excessively detailed instructions, down to the water that should be used to wash his clothes: "come upstream of the city, in the environs of the city—let me show you a washing-place," and the wind he should use to dry them, specifically from the east, and the specific types of wood and stones that the cleaner should use to felt and flatten the clothes to restore them to their original fit. The text illustrates that a Mesopotamian cleaner's tasks went beyond removing dirt, oil, and other detritus of everyday life. He was a full-service shop, charged with repairing clothing and restoring it to its original condition (size, shape, tightness of warp and weft). The process involved a variety of specialized implements, and a great deal of care was taken to ensure the job was done right. …
---
The "Kodanago" was an evil spirit who supposedly inhabited public telephones and wreaked conversational havoc by saying terrible things in both participants' voices.

— Fake Atlas Obscura (@notatlasobscura) January 29, 2019
---
If a bartender offers to serve you a Cossack Spirit Bludgeon, it would be wise to decline.

— Fake Atlas Obscura (@notatlasobscura) January 23, 2019
Ed. Probably good advice.
---
Ed. More tomorrow? Possibly. Maybe. Probably Not? Groundhog Day.