---
to set a mood • • •
---
The United States likes to think of itself as a republic, but it holds territories all over the world – the map you always see doesn't tell the whole story.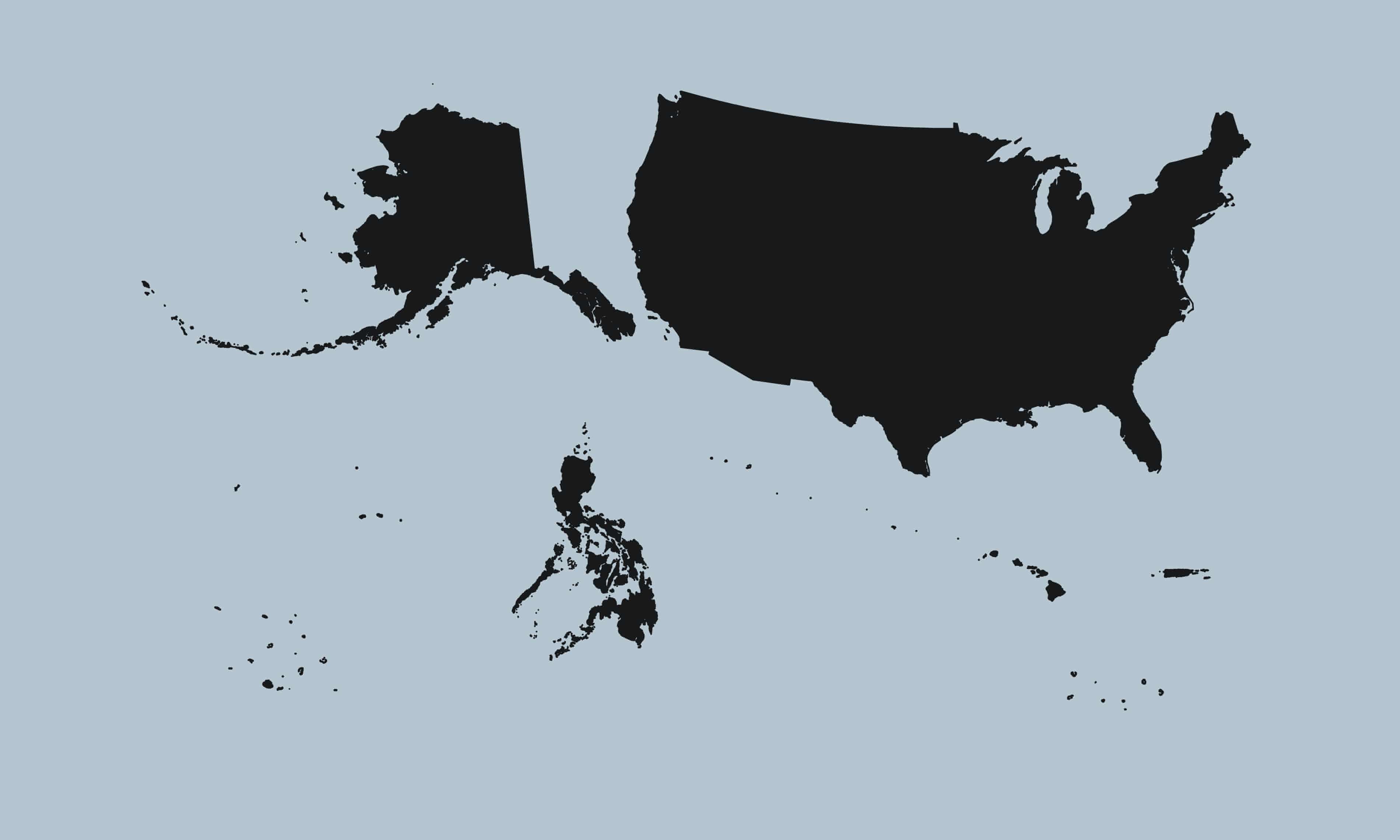 The Greater United States as it was in 1941.

There aren't many historical episodes more firmly lodged in the United States's national memory than the attack on Pearl Harbor. It is one of only a few events that many people in the country can put a date to: 7 December 1941, the "date which will live in infamy," as Franklin D Roosevelt put it. Hundreds of books have been written about it – the Library of Congress holds more than 350. And Hollywood has made movies, from the critically acclaimed From Here to Eternity, starring Burt Lancaster, to the critically derided Pearl Harbor, starring Ben Affleck.
But what those films don't show is what happened next. Nine hours after Japan attacked the territory of Hawaii, another set of Japanese planes came into view over another US territory, the Philippines. As at Pearl Harbor, they dropped their bombs, hitting several air bases, to devastating effect.
The attack on Pearl Harbor was just that – an attack. Japan's bombers struck, retreated and never returned. Not so in the Philippines. There, the initial air raids were followed by more raids, then by invasion and conquest. Sixteen million Filipinos – US nationals who saluted the stars and stripes and looked to FDR as their commander in chief – fell under a foreign power.
Contrary to popular memory, the event familiarly known as "Pearl Harbor" was in fact an all-out lightning strike on US and British holdings throughout the Pacific. On a single day, the Japanese attacked the US territories of Hawaii, the Philippines, Guam, Midway Island and Wake Island. They also attacked the British colonies of Malaya, Singapore and Hong Kong, and they invaded Thailand. …
PREPARE TO SPEND A WHILE; it's The Long Read.
---
FRIDAY MY DAY

Get out more.
The four-day work week is a dream which many full-time workers think they'll never achieve.
Yes, the benefits—more time with kids, more exercise, the chance to volunteer or pursue passions—could be great, but so too could be the sacrifices: lower wages, lower status, a potentially stagnating career, and perhaps a loss of respect from one's managers or colleagues. And that's if workers are even allowed to consider cutting their hours.
The head of a New Zealand company which trialed and then adopted a four-day week offered to all its staff—with no wage cuts or additional hours on work days—says he knows how to make it work for any company. It needn't lead to a drop in revenue, he says, and there's no excuse not to try it. Just one thing: Don't talk about it in terms of employee wellbeing.
It's a productivity policy
Andrew Barnes, the founder and owner of Perpetual Guardian, a firm that helps clients manage financial estates, says he was on an airplane reading an article about productivity hacks and shorter hours at a British firm when he had a "Damascus-like moment" and suddenly saw how to go about implementing the idea at his own company. Soon after, he told his 240-strong firm that they'd start a trial of a four-day work week, which ran in March and April 2018. …
DEGREE OF OPPORTUNITY: After running the trial and reviewing the results, Perpetual Guardian in November 2018 adopted the policy in perpetuity.
---
In the car of the future, you may care more about how the driver's seat swivels than how the engine purrs.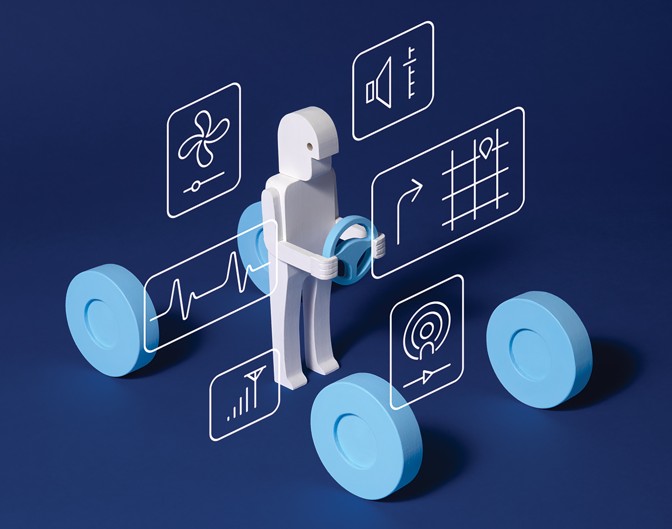 If, as Ralph Waldo Emerson said, "an institution is the lengthened shadow of one man," the story of the American economy can be told by the types of people who run its corporations. The early days of mass production belonged to mechanically minded men such as Henry Ford. The creation of mass markets called forth salesmen such as Thomas Watson Sr., whose faithful troops sang "Ever onward IBM!" After the conglomerate craze of the 1960s and '70s, almost a third of CEOs hailed from finance and accounting backgrounds. Then a crop of technologists, such as Andy Grove and Bill Gates, arrived.
So it came as a surprise last spring when Ford Motor Company selected a chief executive who hadn't been reared in Detroit and didn't easily fit established CEO molds. He was a furniture maker. Jim Hackett, 63, is a product of Michigan's other corporate cluster—the three office-furniture companies around Grand Rapids, including Steelcase, which Hackett ran for two decades.
At Steelcase, Hackett became a devotee of an approach to product development known as design thinking, which rigorously focuses on how the user experiences a product. He forced Steelcase to think less about cubicles—its bread-and-butter product when he arrived—and more about the people inside them. Hiring anthropologists and sociologists and working closely with tech experts, he made Steelcase a pioneer in the team-oriented, open workspaces so common today. In effect, he transformed an office-supply company into a leader of the revolution in the way we work.
Furniture, of course, tends to stay put. But the leap to automobiles seemed less far-fetched once Hackett and I were sitting side by side in the foam-and-aluminum cockpit of a self-driving-car prototype in one of Ford's Dearborn design studios. "We may have to leave that there," he said, pointing to a notional steering wheel emitting a blue glow, "just so that you're comfortable." But the driver's seat can swivel around—like an office chair, he noted. Hackett and I rotated so that we were facing two more Ford employees in the back seat. …
---
Important institutions and billion-dollar companies are too chicken to make a five-year-old their vice president of marketing, so it's up to boring, suited adults. Obviously they miss their marks on occasion, since they're driven by profits instead of childlike wonderment. But sometimes they miss a mark so badly that they win up traumatizing a whole generation. Like how …
6. Danish Zoos Cut Up Dead Animals In Front Of Toddlers
---
In 2015, roughly 400 children gathered around the corpse of a euthanized lion to watch Simba get sliced into scientific bits.
It's the circle of psychiatrist visits.
They also gave the kids a free anatomy lesson that would've been too graphic for an episode of House. This included trying to replicate the young lion's roar by blowing into its severed windpipe, and asking if anyone would like an eyeball before chopping off the head. Children as young as toddlers were shoved to the front, presumably to make sure they could properly smell their innocence dying.
Then, when Copenhagen Zoo found itself with a giraffe "unfit for breeding," they shot in the head, cut it open in public, and threw its carcass to the lions. What, should they have lied and told those kids the unwanted animals had moved to another zoo far away to play with other giraffes and lions? Oh, a lot of foreign zoos offered to arrange exactly that? Oh well, that's no way to sell eyeball souvenirs. …
---
SWITCHED OFF

Risk manager.
The Oracle of Omaha doesn't see a future for technology company Oracle.
According to regulatory documents filed this week, Berkshire Hathaway—the multibillion-dollar holding company headed by legendary investor Warren Buffett—dumped its $2.1 billion stake in Oracle after holding it for a single quarter.
It's not clear what caused the sudden change of heart, or even the initial purchase from the normally technology-cautious investor. Besides a sudden dip around Christmas Eve, Oracle's share price has traded in a fairly narrow range. After years of steady growth, the database company's fortunes have waned in recent quarters. But Berkshire's filings only reveal holdings at the end of quarters, so we know that the Oracle stake it held at the end of the third quarter disappeared at the end of the fourth, but not whether Buffett's firm gained or lost money on the sale.
Berkshire trimmed other technology holdings at the end of 2018, too: it held 249.6 million Apple shares at the end of the fourth quarter, down from 252.5 million at the end of the quarter before. With a value of around $39 billion, this is by far the group's largest single investment. Amid reports of falling iPhone sales in China and elsewhere, Apple's share price has fallen in the past six months by around 20%.
According to the filing, Buffett is looking beyond technology companies to old-economy stalwarts such as banks, cars, and petroleum. Berkshire boosted its holdings in JPMorgan, Bank of America, and General Motors, and opened a position in Canadian oil and gas producer Suncor Energy. …
---
An enigmatic fable about a 'post-truth' city where books are banned from the author of The Famished Road .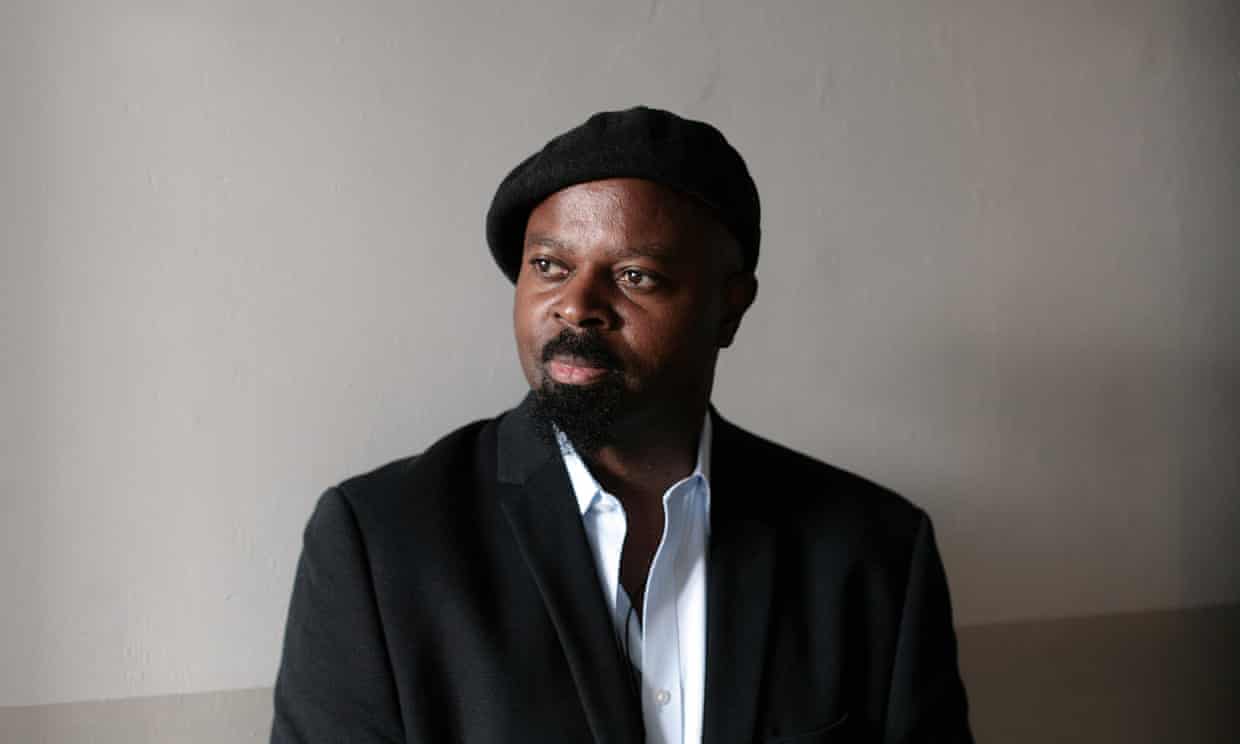 Myth, mysticism and fairytale … Ben Okri.
Ben Okri's impassioned fable is a vision of hell on Earth, a Stygian dystopia in which anyone who questions the regime is punished. We are in an unnamed city whose ancient myths have been travestied and censored, and where literature is outlawed. Catastrophes engulf the planet; capitalism runs wild; the state enforces a "post-truth" culture. Anyone exhibiting a perceived anomaly is culled.
The cover asks: "Who is the prisoner?" This question, daubed on the city's walls by dissidents, is thus also put to the reader. We are asked to recognise that we are all imprisoned sleepwalkers who must embrace, through a renewed culture of reading, our freedom.
Okri suffuses his parable in the sonorously repetitious language of myth, mysticism and fairytale. Twin narrative centres alternate, between the boy Mirababa, inheritor-to-be of a bardic mantle, and Karnak, the questing lover of Amalanta, who has been arrested for asking forbidden questions. Karnak's name conjures the Egyptian mysteries of Isis, as may Mirababa's visionary enclosure in a sarcophagus in a pyramidal mountain. Okri's symbolism is syncretist: all mystery religions are one.
But how do these arcana sustain the reader today? Satirical and carnivalesque elements entertain as one searches into the novel's obscurities. Okri's treatment of mass hysteria is inventive: the suppressed citizens start screaming in their sleep. The Sleep Police prowl, listening out for non-screamers – those more likely to be subversive. Citizens start breaking down in public. Surgeons, pilots, bank managers sob and wail. You don't have to be sleeping to be asleep. …
---
Video Goodnesses
and not-so-goodnesses
Bill recaps the top stories of the week, including President Trump's declaration of a "national emergency" in order to build a border wall.
---
In his editorial New Rule, Bill calls on Democrats to look past the minor flaws of their candidates and focus on the bigger picture.
THANKS to HBO and Real Time with Bill Maher for making this program available on YouTube.
---
Polar bears wreak havoc in a Russian town, the hippos from Pablo Escobar's private zoo overrun Colombian villages, and a caged tiger is found in an abandoned house in Texas.
THANKS to Comedy Central and The Daily Show with Trevor Noah for making this program available on YouTube.
---
Reports say Trump sees one candidate from the ever-growing field of potential 2020 Democratic challengers as the most formidable.
---
Parents are reporting that a charming English cartoon called 'Peppa Pig' is affecting their children's accents.
THANKS to CBS and The Late Show with Stephen Colbert for making this program available on YouTube.
---
The Green New Deal has sparked a second red scare among the typically Christmas-loving Fox News crowd as they race to batten down their cows and protect their private jets.
---
America's obsession with and fear of obesity is putting fat people's lives at risk. As a reminder: don't worry, you can laugh! This segment was written by fat people! Featuring the thicc and fabulous Kristen Bartlett and Ashley Nicole Black.
THANKS to TBS and Full Frontal with Samantha Bee for making this program available on YouTube.
---
CAUTION: Some language may not be appropriate for work or children.
Here's me commentary on some Far Cry New Dawn action.
---
プラケースで寛ぐねこ。 Maru relaxes in the plastic box.
---
FINALLY . . .
An original Cinquecento is now on display at the MoMA in New York.

The term "art" is highly subjective, but some are better suited to determine what qualifies and what doesn't. Like the curators at the Museum of Modern Art in New York, which have selected the original Fiat 500 to be part of its permanent collection.
About a year and a half ago, the world-famous museum acquired an F-series Cinquecento, of the type that Fiat produced between 1965 and 1972. Now it's put it on public display for the first time as part of an exhibit titled "The Value of Good Design," and will remain on show until June 15.
"The Fiat 500 is an icon of automotive history that fundamentally altered car design and production," said the MoMA's chief curator for architecture and design Martino Stierli. "Adding this unpretentious masterpiece to our collection will allow us to broaden the story of automotive design as told by the Museum."
The F-series model of the Fiat 500 was the most popular version that the Italian automaker produced. It packed a tiny 500cc engine good for all of 18 horsepower and a top speed of just 59 miles per hour. But it helped put post-war Italy on wheels and on the track to recovery. …
---
Ed. More tomorrow? Probably. Possibly. Maybe. Not?