---
For more exemplary journalism, visit https://t.co/2VnX2sxPbr pic.twitter.com/siQFz6XIst

— The Onion (@TheOnion) January 13, 2021
---
• • • an aural noise • • •
word salad: Axios Records proudly presents "The Forgotten Language", a powerful downtempo psychedelic album of Avaris, a side project of one of the most established psychedelic trance artists today, Archaic. The central idea behind this album is a return to ancient myth that tells us about essential unity of all creatures: human beings, animals, trees and other non-human entities… According to this myth, all living beings could communicate with each other and as such celebrate the unified field of existence and meaning. This is the sacred language that allows a shaman to communicate with animal spirits and other spiritual entities. As a contemporary echo Avaris' album offers us a translation of this language into a unique musical masterpiece that defines a true shamanic psychedelic experience, bringing us back to the roots and the unity with all beings and most importantly, with each other.
• • • some of the things I read in antisocial isolation • • •
---
India's "plantain man" has traveled widely to build a collection of unusual varieties.

The Pisang raja or Latundan banana at Vinod's farm. Embiggenable. Explore at home.

IN HIS BACKYARD IN KERALA, India, Vinod Sahadevan Nair, 60, grows bananas and plantains and rears chickens and ducks. Situated as it is in an agrarian region, abutting the biodiverse Western Ghats, his farm may seem typical. But a walk through his four acres reveals bananas growing in every conceivable shape, size, and hue: from deep red to turquoise blue. An avid farmer since the age of 12, Vinod has conscientiously collected some 430 varieties of banana over the past 30 years.
Vinod's farming practices were not always so quixotic. As a youngster, he pitched in and spent weekends helping his father tend their coconuts and the 10 to 11 banana varieties that they grew. This was typical for the area—unlike in banana-importing countries, where people know only the Cavendish banana, Indian markets generally sell at least a dozen different types. A bright student, Vinod graduated college with a degree in physics and picked up a web-designer job in Kochi, 150 miles north of his village, Parassala. Still, on weekends, he returned to visit his family and help on the farm.

Before the pandemic, Vinod often showed his bananas to children and fellow banana farmers.
In 2012, Vinod approached one of the agricultural institutes in his home state to procure a few native suckers (shoots arising from a banana tree's roots, which are used for replanting). But a staff member turned him away and refused to answer his questions. This spurred Vinod to seek banana knowledge on his own. He skimmed the internet, wrote letters and emails to other agricultural institutes in India, and traveled great lengths of the country to procure exotic varieties. A banana empire was born.
It was his mother's death in late 2015, though, that forced him to permanently move to Parassala to take care of his father. He also decided to plunge full-time into farming, and acquired a few acres for banana cultivation. …
---
The "octopus condos" erected by Greek mariners remain today.

— Fake Atlas Obscura (@notatlasobscura) January 12, 2021
---
RELATED: Palm Springs, California: 'The Babies'
Instead of faces, these sculptures have barcodes—statements on societal dehumanization.

'The Babies' Embiggenable. Explore at home. Hint: You have to look across the street.

THIS EXHIBIT IS LOCATED ACROSS the street from the Palm Springs Art Museum in a large courtyard. Easy to overlook, these sculptures of babies appear to crawl through the dirt and along the walls of the sandpit.
These ten, unique sculptures are intended to be a statement on the influence of big tech and data on our lives and the world at large. However, this work of art can also be an eerie sight. Either way, the exhibit certainly invokes a reaction.
This art display is the handiwork of famed sculptor David Černý, who is known for his strange works of art that are often statements on society. "The Babies" is probably one of his most well-known creations. The sculptures are currently on loan from Prague and will be on display until 2022. …
---
If you didn't grow up in Vladivostok, you have probably never encountered this wasabi-infused Almond Joy clone.

— Fake Atlas Obscura (@notatlasobscura) January 12, 2021
---
The business owners, real-estate brokers, and service members who rioted acted not out of economic desperation, but out of their belief in their inviolable right to rule.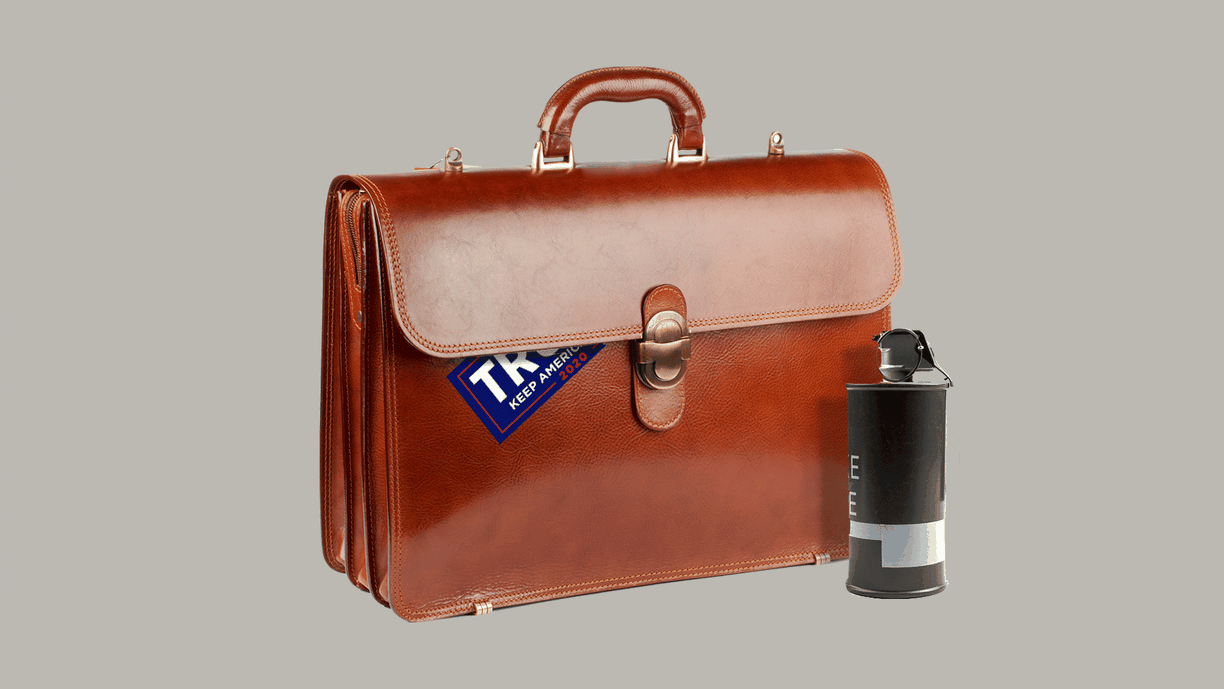 They were business owners, CEOs, state legislators, police officers, active and retired service members, real-estate brokers, stay-at-home dads, and, I assume, some Proud Boys.
The mob that breached the Capitol last week at President Donald Trump's exhortation, hoping to overturn the results of the 2020 presidential election, was full of what you might call "respectable people." They left dozens of Capitol Police officers injured, screamed "Hang Mike Pence!," threatened to murder House Speaker Nancy Pelosi, and set up a gallows outside the building. Some were extremists using the crowd as cover, but as federal authorities issue indictments, a striking number of those they name appear to be regular Americans.
And there's nothing surprising about that. Although any crowd that size is bound to include people who are struggling financially, no one should be shocked to see the middle classes so well represented among the mob.
The notion that political violence simply emerges out of economic desperation, rather than ideology, is comforting. But it's false. Throughout American history, political violence has often been guided, initiated, and perpetrated by respectable people from educated middle- and upper-class backgrounds. The belief that only impoverished people engage in political violence—particularly right-wing political violence—is a misconception often cultivated by the very elites who benefit from that violence. …
RELATED: Why the Rioters Thought They Could Get Away With It
Trump told supporters that loyalty to his cause is more important than fidelity to the law, and they took his message to heart.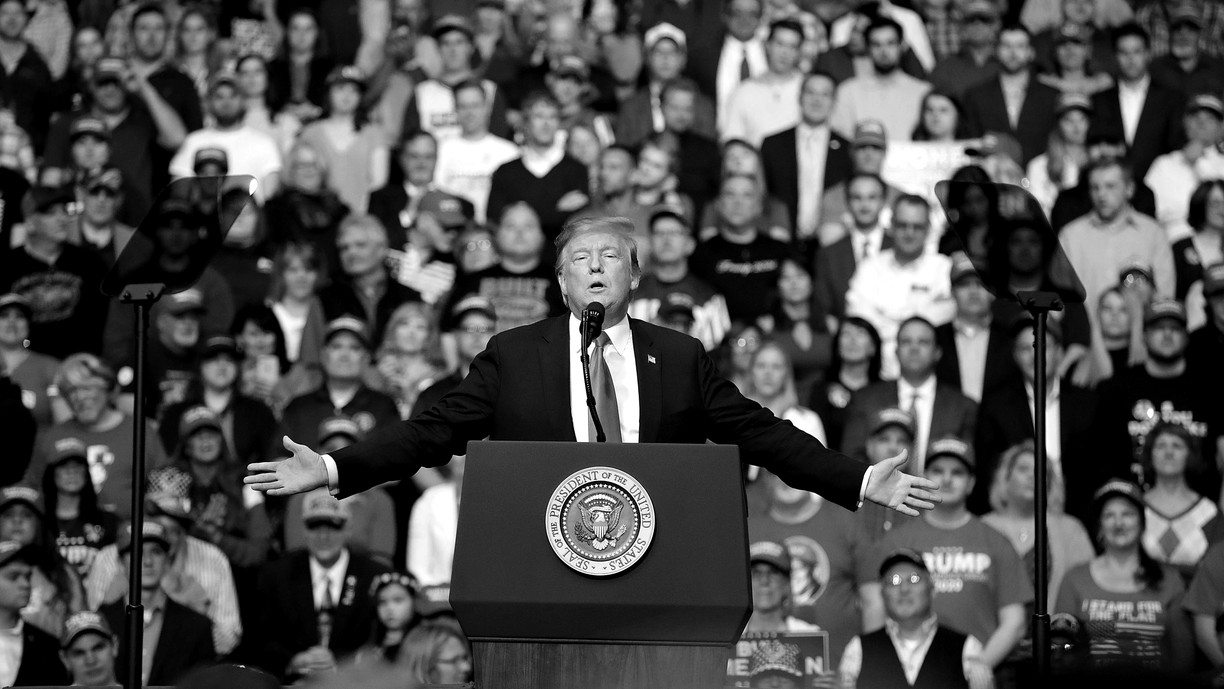 Delivering accountability for all of those who stormed the U.S. Capitol on January 6 will be challenging—but catching some of them will be very easy, because they made it so.
One of the things about last week's attempted coup that continues to boggle the mind is the almost naive impunity many rioters showed. They stormed into the seat of the American government unashamed, unabashed, and many of them undisguised (though perhaps costumed). There may have been, at that moment, no place in America with a higher concentration of photojournalists and reporters who could and would record what happened. Despite their disdain for the press, that was a feature and not a bug for some of the rioters.
Many of them wore no masks, not only because they adhere to a political movement that derides the pandemic as a hoax, but also because they were not afraid to be known. They posted videos of themselves and selfies on social media, boasting about what they were doing. One posed for a photograph with his feet up on Nancy Pelosi's desk. Others gave interviews narrating their exploits. They patiently spelled out their names for reporters. They strode the halls with employee IDs dangling in plain sight. A man cheesed for the cameras while lugging a huge lectern out of the building. Another called the FBI to chat about it all. Having fomented their insurrection on the internet, the participants returned to its embrace as memes: Lectern Guy, Confederate Flag Guy, Horns Guy, Fur Pelt Guy.
There has been a great deal of commentary about the white impunity on display during the attempted coup. Not only is it difficult to imagine law enforcement taking such a relaxed posture about the demonstration ahead of time with a largely nonwhite crowd; it is also hard to imagine officers reacting so placidly to the actual assault. One need only look at how authorities handled Black Lives Matter protesters in Lafayette Square over the summer to see the difference. Beyond that, Donald Trump's movement has been built on a foundation of racial grievance, bigotry, and white identity politics. …
---
Report: Leading Cause Of Death Still Venturing Beyond The Pines https://t.co/58Po17hzZa pic.twitter.com/p5S3J3QuID

— The Onion (@TheOnion) January 12, 2021
---
The precise planning and execution of military operations can sometimes fall into place so perfectly that the re-telling of their historical events can come off like a perfectly scripted screenplay.
These are not those stories …
6. Rwanda Launched a Massive Airborne Invasion With Hijacked Airliners
---
After the 1994 Rwandan Genocide, the cartoonishly corrupt Congolese dictator Mobutu Sese Seko decided to help some murderous Hutu shitheads with their sequel plans. This angered Rwanda, which promptly conquered the Congo in seven months … despite being 1/89th the size of the Congo. However, the new, Rwandan-installed Congolese dictator Laurent-Desire Kabila quickly decided to tell Rwanda to screw off. This also angered Rwanda, which promptly launched a daring airborne invasion to bump him off too … despite not having an air force.
Death from above > walking all the way to Kinshasa again like assholes.
In August 1998, Rwanda's leaders had their BFFs, the Banyamulenge, stage an uprising in the Eastern Congo. Commandos led by General James Kabarebe seized two Boeing 727s and two Boeing 707s during the chaos. They then forced some random pilots they kidnapped to help start the bloodiest war since World War II, which — technically speaking — is the worst thing anyone has ever done with four hijacked civilian airliners.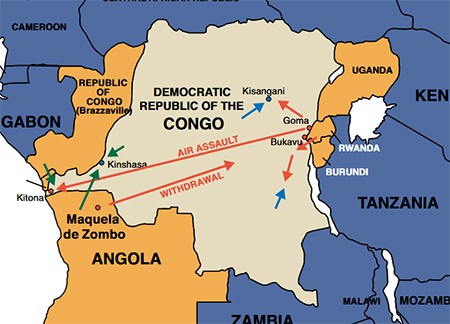 Not Pictured: How those pilots saw their Tuesday morning going.
The commandos flew to the other side of Africa, landed in the middle of enemy-held Kitona Airbase, and jumped off the rear airstairs of still-moving 727s like an army of D.B. Coopers. After stealing the airport, Kabarebe forced his stolen pilots to use his stolen airline to fly in thousands of Rwandan and Ugandan soldiers. He also used suitcases full of money to persuade thousands of dissident Congolese soldiers in the area to dissent so hard that they switched sides with all of their tanks and artillery. He quickly gathered an army of somewhere around 18,000 men. For comparison, the United States landed about 17,000 airborne troops during the Normandy Invasion. …
---
SpaceX Reveals All 400 Dogs On Falcon Rocket Failed To Survive Trip https://t.co/58Po17hzZa pic.twitter.com/5VF6u0nlmS

— The Onion (@TheOnion) January 13, 2021
---
RELATED: 'Space Karen' Elon Musk Blames Fellow Billionaire, Mark Zuckerberg For Deadly Capitol Attack
Ahhh, rich tech tycoons, they're just like us — and by just like us, I mean they too shade the hell out of their frenemies on Twitter.
On Wednesday, Tesla CEO Elon Musk took a break from attempting to colonize Mars, selling nearly all his worldly possessions, tanking his stocks via social media post or well, whatever the world's newly-minted richest man alive happens to do in his free time, to absolutely dunk on the fellow billionaire, Mark Zuckerberg, indirectly blaming the Facebook founder for last Wednesday's Capitol siege.
"This is called the domino effect," Musk wrote alongside a meme, tying together the creation of the social networking giant with last week's events, proving Musk's latest endeavor is in the business of shade.
This is called the domino effect pic.twitter.com/qpbEW54RvM

— Elon Musk (@elonmusk) January 7, 2021
Yet this is far from the first time the SpaceX founder has poked fun (get it, poked, like a Facebook poke?) at the world's second most-famous Harvard dropout (the first, of course, being Lil Pump). The duo have had beef for years, according to Business Insider. When one of Musk's rocket decimated a Facebook's satellite back in 2016, Zuckerberg decimated the infamous Space Karen right back, issuing a statement that he felt "deeply disappointed" in the entrepreneur's failure. Afterward, Musk made a big show of deleting his companies' Facebook pages as the social platform weathered the Cambridge Analytica scandal, later tweeting that Facebook gave him a bad case of "the willies." Those are fighting words.
And it didn't stop there — last year, Musk publicly replied to one of Sacha Baron Cohen's tweets criticizing the social media giant with three words of advice to his followers — "#DeleteFacebook – It's lame." Ouch. …
---
Conservatives Accuse Nature Of Silencing Right-Wing Voices After Sheldon Adelson Dies At 87 https://t.co/wYdHp5FzPm pic.twitter.com/HMMOe7R75W

— The Onion (@TheOnion) January 12, 2021
---
RELATED: 'Buffalo Head Guy' Reportedly Hasn't Eaten Since Capitol Attack Arrest, Citing Lack Of Organic Jail Food
On today's episode of absurd insurgent entitlement, it turns out that ridiculous requests along the lines of "no red M&Ms" aren't only reserved for rockstars or, well, allegedly world-famous drag queens. It seems one rioter who reportedly participated in Wednesday's deadly act of domestic terrorism can also have a diva-esque demand — all from the comfort of their jail cell. Jake Angeli a.k.a. Jacob Chansley, a.k.a. the buffalo head-clad "QAnon Shaman" who was arrested on Saturday for his involvement in last week's capitol siege is now on a hunger strike — not to further a political cause, but because prison food apparently isn't organic, Complex reported. Since being taken into custody, Angeli, who now faces several charges including disorderly conduct and violent entry, has allegedly refused to eat anything at the Arizona detention center where he is being held, at least according to Martha Chansley, Angeli's mother and potential roommate.
"He gets very sick if he doesn't eat organic food,"Ms.Chansley told reporters of her 33-year-old son's tummy troubles. "He needs to eat." To paraphrase several of his likely comrades, that sure as heck sounds like some snowflake behavior.
Ok, this is funny. Organic food demanded by domestic terrorists. https://t.co/Pp2z7yx0hz

— Claire McCaskill (@clairecmc) January 11, 2021
But of course, Angeli, who over the past six days has become a poster child for violent, rioting yahoos, is no ordinary inmate and therefore, is entitled to the white-glove incarceration experience once thought to be reserved for famous felons like Martha Stewart and good ol' Aunt Becky. After Judge Deborah Fine learned of Angeli's non-organic hunger strike, which she said she found "deeply concerning," she ordered his public defender to work with the U.S. Marshal's Office in finding a suitable menu for the insurgent's refined palate. "We will abide by the judge's orders," The District of Arizona's U.S. Marshal told Phoenix ABC News affiliate, ABC15. …
DEGREE OF DIFFICULTY: The U.S. Justice System — works great if you're white!
---
Hundreds Of GOP Legislators Crowd Into Sitting Room For Reading Of Sheldon Adelson's Will https://t.co/BIZumEASeV pic.twitter.com/SXJRxczmp9

— The Onion (@TheOnion) January 12, 2021
---
What the board calls the San Francisco Art Institute's "most liquid asset" is "not a commodity," the adjunct faculty union says.

What the board calls the San Francisco Art Institute's "most liquid asset" is "not a commodity," the adjunct faculty union says. Embiggenable. Explore at home. And, perhaps, tell them to use their massive endowment.
Diego Rivera once described his paintings as "true and complete pictures of the life of the toiling masses." In the 1920s, the Mexican artist turned from the easel to the centuries-old fresco technique in part because murals chemically fused to buildings weren't so easily hoarded or resold. "The whole point for him," Latin American art scholar James Oles said in an interview with Hyperallergic, "was they're not commodities."
In a December 30 statement, union adjunct faculty at the beleaguered, 150-year-old San Francisco Art Institute (SFAI), lately verging on insolvency, felt compelled to make the same point.
The union decried board members' consideration of selling "The Making of a Fresco, Showing the Building of a City," a 1931 Rivera mural depicting what the artist called a "dynamic concerto of construction — technicians, planners and artists working together to create a modern building."
Rivera, in other words, didn't anticipate this situation: The public art appraised at $50 million has become SFAI's "most liquid asset," school spokesperson Nina Sazevich said in a statement, and "the board is committed to investigating all ways of putting the school's assets to work."
The union adjuncts, though, assert that the artwork's social or use value — to use a Marxist formulation befitting Rivera — shouldn't be subordinate to even that much exchange value. …
---
Video Goodnesses
and not-so-goodnesses
Matt Russo was torn between careers in astronomy and music. So he combined the two and set the cosmos to music.
THANKS to SHOWTIME and VICE News for making this program available on YouTube.
---
Pitchforks, Proud Boys, and a one-man "Tyranny Response Team." Jordan Klepper saw it all at the Capitol insurrection.
THANKS to Comedy Central and The Daily Social Distancing Show with Trevor Noah and Jordan Klepper for making this program available on YouTube.
---
Suspended from Twitter because of your role in an insurrection? Crapr is the perfect app for you.
THANKS to CBS and A Late Show with Trevor Noah for making this program available on YouTube.
---
While the president tries to shift blame for last week's insurrection, the FBI and Justice Department are making it clear that the terrorists involved will face very serious federal charges. Meanwhile, lawmakers in Washington and around the country are bracing for a second wave of right-wing violence.
---
Seth takes a closer look at House Democrats calling on Vice President Pence to remove President Trump through the 25th Amendment as they prepare to vote on a resolution to impeach Trump.
THANKS to NBC and Late Night with Seth Meyers for making this program available on YouTube.
---
CAUTION: Some language may not be appropriate for work or children.
Here's me commentary on a collection of excellent ninja fails. Okay, a few of them are broad martial arts fails. Ok, a few of them are in fact wins. ENJOY! Cheers ya legends, O-Man.
---
鏡開きを楽しむまる。Yesterday was the day to open the New Year's Kagami mochi.
Kagamini mochi: (鏡餅, "mirror rice cake"), is a traditional Japanese New Year decoration. It usually consists of two round mochi (rice cakes), the smaller placed atop the larger, and a daidai (a Japanese bitter orange) with an attached leaf on top. In addition, it may have a sheet of konbu and a skewer of dried persimmons under the mochi. It sits on a stand called a sanpō (三宝) over a sheet called a shihōbeni (四方紅), which is supposed to ward off fires from the house for the following years. Sheets of paper called gohei (御幣) folded into lightning shapes similar to those seen on sumo wrestler's belts are also attached…
---
FINALLY . . .

Shoji Morimoto who rents himself out to other people "to do nothing," is seen standing near Nakano Station in Tokyo's Nakano Ward. Embiggenable. Explore at home.

A 37-YEAR-OLD TOKYO MAN who says he rents himself out to other people "to do nothing" has been inundated with gratitude from Twitter users, indicating people are happy with his new form of support.
"I'm glad I was able to take a walk with someone while keeping a comfortable distance, where we didn't have to talk but could if we wanted to," one user wrote. Another reflected, "I had been slack about visiting the hospital, but I went because he came with me."
Shoji Morimoto has been advertising himself as a person who can "eat and drink, and give simple feedback, but do nothing more," since June 2018, and has received over 3,000 requests. He has about 270,000 followers on Twitter. Initially he had offered his "rent-a-person who does nothing" services for free, but he now charges 10,000 yen (roughly $96) per request.
People rent him for various reasons. At times he will participate in a gaming session to make up numbers, turn up to send off people who are moving away, accompany those filing for divorce, or listen to health care workers who have become mentally unwell due to their exhausting work.
Morimoto commits to "doing nothing" and basically just gives back-channel feedback when someone speaks to him. "I myself don't like to be cheered on by others. I get upset when people simply tell me keep on trying. When someone is trying to do something, I think the best thing to do is to help lower the bar for them by staying at their side," he explains. …
---
Ed. More tomorrow? Possibly. Probably. Maybe. Likely, if I find nothing more barely uninteresting at all to do.
---
ONE MORE THING:
Called it. https://t.co/ABHhUwOEUq

— God (@TheTweetOfGod) January 12, 2021
---
ONE MORE ONE MORE THING:
With great power comes zero responsibility.

— God (@TheTweetOfGod) January 11, 2021
---
Good times!
---